Did you ever count the number of tools you use to run your business? If you haven't, don't venture into it without a glass of wine.
In a world where almost anyone can create a tool or software, new tools or software pop up all the time. Which gives us a huge variety of options when choosing shortcuts for our workflows and processes. The headache starts when we have to juggle all those tools.
Consider this typical workflow example of a coach delivering 1:1 service:
This fragment of a super simple workflow alone calls for 11 different tools! Running an entire business can easily require 3-4 times the amount of tools and software.
However, the frustration and wasted time of juggling all those tools is not even the biggest challenge. What becomes exponentially hard as we keep adding tools, is our ability to make decisions using data that gets collected in those tools.
In addition to that, the real expense of having too many tools ends up being our lost revenue, because we stop growing. Complexity doesn't scale, it breaks.
That's how the Author Accelerator team felt when they reached out to us.
When we started working with the team, they had 30 book coaches who were guiding a few more than 150 writers through their Author Accelerator coaching programs. Because of their incredible results, the demand for the Author Accelerator programs was constantly growing.
The problem was that, on the back end, things were not working smoothly.
Laura Franzini, Managing Editor of Author Accelerator, shared:

The Author Accelerator team knew that for their writer clients to have the best experience and results, they needed to ensure that the coach and the writer were a perfect match, based on more than ten criteria from coaching style to the topic, genre, and level of feedback and individual availability.
But accessing all that data to make the pairing decision wasn't easy. The information resided in five different tools and three different spreadsheets. Since the data needed to be duplicated in so many places, it wasn't always accurate.
Switching between all these different tools to examine the data and confirming with the coaches and team members that the details were up to date would cost Laura long hours and endless frustration: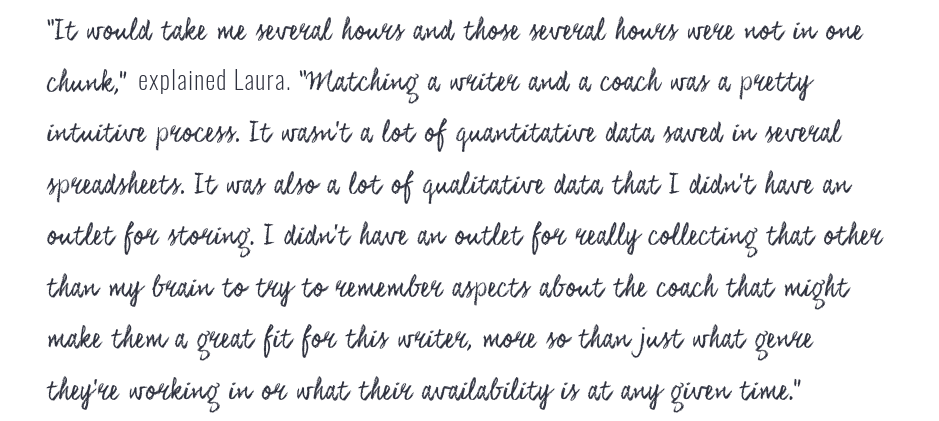 The onboarding was slowing down the growth of the entire business:

The "After"
Author Accelerator needed a simple, cohesive setup that didn't require spending so much time keeping track of information, cross-referencing different platforms, re-entering the same information into different spreadsheets, and manually finding the right pairs of book coaches and writers.
So, what we created for them was a relational client management database that brought all their information together. We got rid of two out of five tools, ensured that the data from the tools that we kept were automatically added to the client management database, and moved information from the various spreadsheets into the database.
It allowed the operations team to have access to the same information as the editorial team. It made all of the information consistent. It allowed anyone on the team to make the decisions they needed to make, knowing they were all working from the same information.

The new setup also drastically simplified the process of matching coaches to writers. What used to take five hours over the course of a week now takes just one hour on a single day.


And the best part? Fewer, but more impactful tools allowed the company to grow incredibly fast. In 10 months from the moment the team started using the new client management hub, they've seen incredible results:


Are you ready to look at your own toolbox now? Isn't it time to make things simpler to create space to grow?
We can also look at your toolbox together. If you run an agency or have a service-based business where you offer high-touch high-ticket offerings, you can apply for a Systems Audit. You can find more info about it here.