Are you tired of trying to grow your business blindfolded?
Growing your company feels impossible when you
can't get straight answers about
what's working & what's not
Investigating and tracking what is actually working to grow business all on your own is not what you signed up for. 
But here you are, because:
To reach your goals,

you keep adding more and more onto your plate

. Your business has become this insatiable beast that constantly whispers in your ear: "Create more, publish more, post more, launch more, advertise more, hire more…" But you know

this isn't sustainable

.

You are guessing

at what will propel your business growth

to the next level. Will it be Facebook Ads, a conversion copywriter, YouTube videos, a podcast? You don't have any way to know, and you're sick of worrying whether your gamble is going to pay off next week, next month—or ever—and want to

stop wasting money on things that don't actually work

.

Your information lives in an

ever-increasing jumble

of disconnected spreadsheets, systems, databases and applications. Even if you wanted to get a 30.000-foot view of what's working and what's not,

you wouldn't know where to start

.
Every month, you spend thousands of dollars on your team, your Facebook ads agency, your conversion copywriter, your video marketing, and everything else.
…And you're not even sure if you're getting a worthwhile return on your investment.
Are your expectations too high? Should you spend even more? Or maybe pull the plug completely?
You're ready to turn your marketing into a precision machine that drives a steady stream of customers to your brand.
But to do that, you need to know how your marketing is actually performing. Your numbers should tell you everything you need to know, shouldn't they?
We can turn your numbers soup into a crystal ball,
so you know exactly what to do next
Nothing thrills me more than helping a business owner turn an idea for a sought-after product into a flourishing machine that seamlessly drives customers to their brand.
I am a huge believer in growing a business with an intention for it to become a value generator, rather than a source of worry and uncertainty.
Unfortunately, worry and uncertainty is the reality of many business owners who don't have any hard, factual information on what works and what doesn't work in their business.They lack visibility into how their marketing performs.
Oh, they've got numbers. They've got numbers pouring out of every platform, app, and campaign. But what do all those numbers add up to? They try to pull meaning out of a soup of numbers and metrics that seem like they should mean something, and that leads to guesswork and wasted time, effort, and money.
Hello, I'm Natasha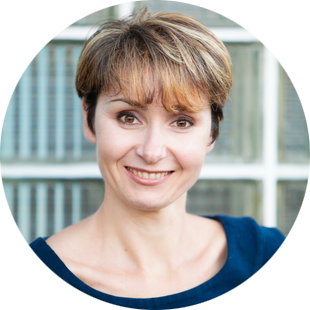 I'm a Metrics Whisperer—my clients call me their secret weapon because I help them collect key metrics into an easy-to-read Marketing Control Panel that reveals the meaning behind all those numbers. As a result, my clients are able to make decisions based on specific, personal trends and patterns we detect in their customers' and prospects' activities, instead of relying on guesses and hunches.
Growing a business is very much a numbers game, but it doesn't have to feel like playing blackjack, nor that there's no option but to do more to gain more. 
Quite the contrary. 
The key is knowing your numbers, making a well-reasoned hypothesis based on what the numbers tell you and, once you've taken focused action, comparing your projections to the results so that you can optimize your machine even further. 
It's such a fun game!!
As a Metrics Whisperer, I get your numbers to tell a story of how your business currently performs and spell out what you should do next to reach your 7 or 8 figure goals.
We stack the odds in your favor by having your numbers tell us exactly what to expect.
And that is very much like knowing the cards that you'll be dealt next.
The level of masterful insight provided by a personalized Marketing Control Panel allows you to grow your business in an intentional, predictable way.
You can enjoy certainty in what tomorrow holds as opposed to trying to sleep at night worrying if your gamble is going to pay off next week, next month, next year, or at all.
Want to turn your evergreen funnel into a precision machine?
Let's figure out:
How you could drive a steady stream of customers simply by adjusting the dials. 
How to be intentional instead of reactive with your marketing budget.
How to turn your numbers soup into crystal ball so you know exactly what actions to take to bring in more sales.