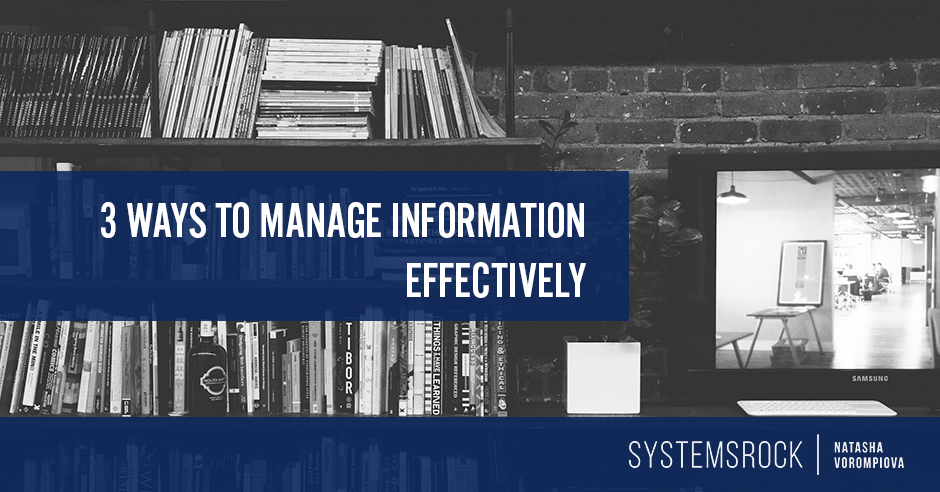 In our quest to become the go-to expert in our fields, we often wind up feeling overwhelmed by the information we encounter as we keep our fingers pressed firmly on the pulse of our industries.
It seems as though as soon as we get our inboxes down to zero they fill up once again with newsletters and updates from other experts. 
I'm constantly called upon to help my clients tame their information overload so they don't burn out.  So, today, I want to share with you …
3 Simple Strategies to Manage Information
Strategy 1: FOCUS ON JUST A FEW KEY AREAS.
Information overload happens when you don't have a clear vision and boundaries.  Everything seems to be important.  You feel frazzled and frantic.  You try to read everything and wind up not really knowing anything. 
Every month, dedicate yourself to cultivating your knowledge of up to three main areas in your industry.  Let yourself zoom in on these things and share your insights with your fans. 
Trust me, this approach enables you to truly master what you're reading and leaves you feeling exhilarated instead of downtrodden.
Strategy 2: ORGANIZE THE INFORMATION YOU DO NEED.
You've got to be able to quickly and easily access the information you're gathering.  Otherwise, you're still going to end up feeling frustrated. 
The solution for most of my clients involves making a commitment to keeping these documents at their fingertips and in one place. 
If you need to keep an eye on the developments in your industry and engage your readers in attention-grabbing discussions about them, get an RSS Reader. 
It provides one neatly organized place (that's easy to navigate) for receiving updates from your favorite websites.  It automatically delivers these updates to you, so you don't have to spend time visiting each site.
These sites are super safe and allow you to keep all of your passwords in one specially-encrypted vault.  What's more, both sites can generate passwords (typically meaningless numbers and symbols) so they're less likely to be guessed.  Last, but not least, mobile apps are available for both, making it even easier for you to access your sites on the go. 
Evernote, is the most robust tool to collect and manage information.  The fact that you can add information into Evernote in a variety of ways allows you to turn Evernote into an information management hub so that you don't need to hunt for that information in different locations.
One of the ways to get information into Evernote is by using Web Clipper, which allows you  to save into Evernote entire pages, simplified articles, or URLs.  Of course, when you add information into Evernote, remember to properly tag your Notes and/or put them into a specific Notebook so you can easily find them later.
Pocket is another an amazing tool.  With just one click, you will be able to save articles to read at a later date.  You can check the articles off as you read them. 
Strategy 3: BLOCK OUT A SPECIFIC AMOUNT OF TIME TO MASTER THE INFORMATION.
It's not a wise idea to be constantly reading the information that you're collecting.  This approach dissipates your mental energy and often distracts you from high-leverage tasks.   
Get into the rhythm of this new habit.  It's really simple.  Just set aside 50-60 minutes two or three times a week to study the material you've collected.  Then, build in time to share what you've learned with your fans.  You'll experience greater productivity and better results. 
Bonus Tip: PUT TO USE YOUR PROJECT MANAGEMENT TOOL.
You can actually collect resources in your task/project management tool like Asana or Trello.  What's great about it is that you can actually schedule the action that you need to take: read the article, test the tactic, ask your assistant to to do the testing for you…
Ultimately, the trick isn't to avoid all new resources. The skill is to discern which ones you'll actually be able to implement in your business and see them through to their full potential.
A CHALLENGE
Comment below and share what action you are going to take to tame your information overload.