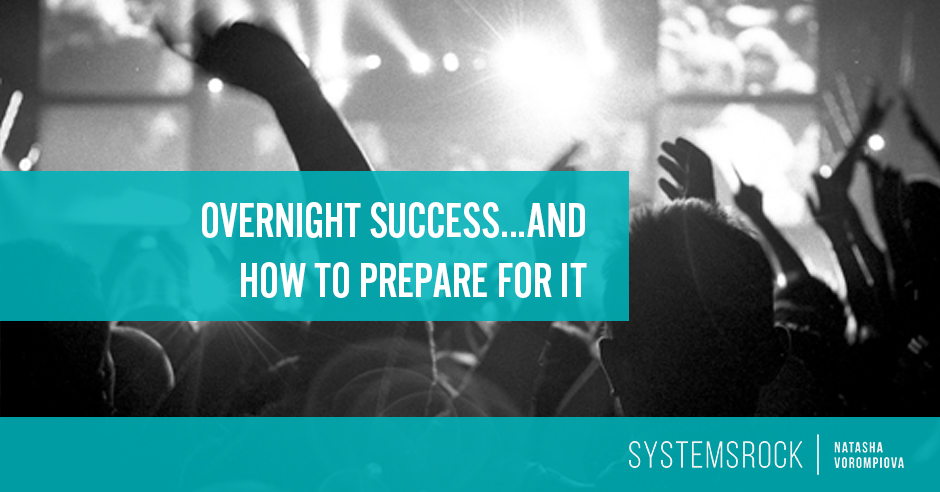 First published on Firepolemarketing.com
You're doing everything in your power to boost traffic to your site. You are improving your reader's level of engagement, and establishing yourself as an expert.
Why?
Because you're reaching for that ultimate goal—an ongoing stream of customers who can't wait to get their hands on your products or get the coveted one-on-one support from you.
But. . .
What if you woke up tomorrow to discover that you're flooded with new clients? 
Would you be able to provide each one of them with an exceptional customer experience?
No. 
That's the honest answer for most entrepreneurs because in the early stages of building our businesses we're focused almost exclusively on getting our first string of customers. So, we rarely dedicate any time to working on our back-end systems.
Then, one morning, we discover that our efforts have finally paid off.
Our article went viral, people are clamoring for information and crowding to order our products or schedule individual sessions.
You know what happens?
Most small business owners find themselves in a crisis situation—a backlog crisis.
Think that's a good problem to have?   Think again.
You might never get another chance to make a positive impression on these clients and prospects.
Your Checklist for Preventing a Crisis
1. Structure Delivery of Your Services 
Creating a superior experience for your clients can be ensured by one single thing—structure. 
Yes, you heard me, structure. 
Clients love it and don't mind getting told what to do.  In fact, they hire you for your expertise, so they need directions.
Even if you have a service-based business and believe that you need to be flexible to accommodate the different needs of your clients, it's vital to create the underlying process by which you work with them.
Consider the below questions to get clear on your own process, especially, for long-term collaborations:
How are you going to work together? If you're a coach (or offering a service that's transformational in nature), what's your methodology?  If you're a web designer, copywriter, or media strategist (or offering some sort of tangible service), what are your project phases?
What are the milestones, timelines, and deadlines for the services or product?
When and how frequently are you going to communicate?  Will you be sending the client follow-ups or updates?  How prompt will you be in replying to the client's inquiries?  In what way can you be reached in case the client has an urgent question?
How often, if at all, are you going to meet?  What platform are you going to set up meetings?
What is the client responsible for doing?  If you will need the client to approve certain parts of the project, when do they have to provide their feedback?  What happens when the client misses the deadline?
Does the client need to be introduced to another member of your team?
Taking your clients through a series of steps that get them the outcome they hired you to produce builds their confidence in you and conveys your expertise.
The clearer procedures you create for yourself, the better you will get at servicing clients (and the more of them!) without adding much to your workload.
2. Optimize Your Product Delivery
If you have a product-based business, seamless product delivery has a major influence on client satisfaction.
If you sell digital products, walk through the process of placing an order:
Confirm that the order placement links work.

 

Also, make sure your payments go through smoothly.
Test the process and ensure that it accurately relays essential instructions and produces necessary confirmations.

 

Put yourself in the shoes of your clients and make sure that the steps of getting the product and starting to use it are super clear.

 

Check your thank-you page, links to download the product, credentials for the membership site, and autoresponder sequences.

 

Makes sure clients have the contact info for someone on your team who can answer their questions or resolve problems.
Think outside the box.

 

Do you have a complementary product or service?

 

Use it for a 1-click upsell before the client checks out.

 

Even though it will be offered at a fraction of its regular price, it can significantly increase your profit margin.

 

It also leaves your customer feeling that they got a great deal.
If you sell physical products, prepare your inventory.

 

Taking these preemptive measures are especially important when you expect a high-profile appearance in traditional or online media.
You don't need to carry unnecessary amounts of actual inventory, but you have to make arrangements so that you can get your hands on items very quickly when the orders start rolling in.

   

If you're packaging and shipping the items yourself, ensure that you have a certain number of items prepared ahead of time.

 

Or, if you're outsourcing this part of the process, notify your fulfilment partner that there might be a surge in orders.
Make certain that everybody who needs to get notifications about the new order receives them.

 

Assign someone to do random checks to ensure that the orders that came in are being taken care of.

 

Assign someone to track your inventory.

 

Otherwise, invest in an inventory tracking software.
3. Plan to Delight Your Customer No Matter What
Regardless how things turn out, make sure your client care is at its best.
Make yourself or certain team members available to promptly and professionally answer questions.  Turn commonly asked questions into a FAQ sheet/page or even an info packet. 
Delight your customer by sending a thank-you note after they've made a purchase.  Express your gratitude and give them the contact info for a team member who can assist them if they have a question or issue.
If any order fulfilment falls behind, reach out to the clients, acknowledge the delay and assure them that things are under control and they will receive their orders on a new delivery date.
When something goes wrong with the software you use to deliver your digital products, be proactive and notify the clients of the malfunction and take immediate measures to fix the problem.
If you are a service provider and have to ask your clients to get on a waiting list, consider offering a complimentary digital product or short "let's get acquainted" session to show your appreciation and generosity.
4. Streamline Your Client Management Process
Your ability to take on a growing number of clients without significantly adding to your workload or sacrificing the quality of your services is directly connected to the efficiency of your back-end client management system.   
The first and foremost thing in this setup is a calendar. 
Regardless of what combination of tools you use to monitor the progress of your clients or projects, make sure you have a calendar, where all the deadlines are noted and meetings scheduled.
In addition to a calendar, you may use these tools:
Whiteboards.

 

They are great if you are a visual person working from your office (since they're not that portable).  Adore whiteboards, but don't want to be tied up to your office?  Check out Trello.
Spreadsheet.

 

Excel or Google Drive spreadsheets are a convenient tool to keep track of the progress of your clients, multi-phase projects and deliverables of people responsible for specific tasks.
Google Drive is a fantastic resource for managing your clients.

 

It allows you to easily share documents with individuals or even groups.

 

It keeps the latest versions of each document you create, so you don't waste time looking for it.

 

In addition, you can collaborate with people in real time and make changes to documents at the same time.
Dropbox. This cloud-based software is terrific for being able to access information from any device (phone, tablet, etc.) even when you are not at your desktop or laptop.

 

Creating shared folders for each one of your clients allows them to access large amounts of neatly organized information.

   

Client relationship management software (CRM).  As the name of this awesome tool suggests, You use CRMs for managing clients.  Among other things, they save time because you don't have to keep reinventing the process you take your clients through and can prevent you from losing track where you are in the process with each one of them. The "I-can-remember-it" tactic can work when you have a handful of clients.

 

But as your client roster grows, keeping everything in your head will quickly result in you dropping the ball and having to come up with ways to redeem yourself.

 

My personal favorites are

CapsuleCRM

and

Contactually

.  They are a perfect solution for coaches, web designers, editors, photographers and many other types of small business owners and freelancers.
Project management software.  Using

project management software

makes project and client management much easier.

 

This option is especially useful for service professionals, who work on multi-tier projects that require collaborating between you, your team members, and your client.

 Project management

 software helps you keep information about projects in the same place.

 

That's also the place where all communication and updates about each phase of the project happen.

 

Most software programs come with great calendars that allow you to see where you are with the milestones of each project.
Client management software.

 

If you are a coach and take your clients through the same steps or materials, client management software like

CoachingCloud

or

JigsawBox

could be a great solution for you.

 

This software allows you to create hubs of information for your client where they access the materials you want them to go through, submit their homework, and even have online conversations.

 

It also allows you to keep notes about each client and monitor their individual progress.
Membership site software.  This is a more advanced option, where you yourself create that centralized location where your materials are stored.

 

This is also a solution for storing massive amounts of multi-media files and managing large groups of clients.

 

WishList Member

and

Premise

are both very popular forms of membership site software.
You can certainly mix and match the above tools, but you've GOT to ensure things don't fall through the cracks. You don't waste time trying to remember or look up information about clients and deadlines.
5. Prepare Your Training Manual
Your business might not be ready for a team just yet. However, you should make the necessary preparations. Then, when you urgently need help, someone can jump in and support you. 
This will be possible only once you download, from your head, onto a piece of paper or computer the ways you run your business.
When it comes to client support, do you need help with packaging, running to the post office, and answering e-mails or phones? 
Prepare clear instructions on how to do each task such as guidelines on how to package your product, directions to the post office, scripts to handle phone or e-mail inquiries, etc.. If you need to hire someone on short notice, all you will need to do is explain to them where to find instructions for each task. 
Don't stop at customer-related activities.

 
During crunch time when you need to attend to issues that can only be handled by you, every minute will count.
In order to be able to delegate easily, create a list of tasks you engage in on a regular basis (daily, weekly, monthly).  Then, get clear about each step you need to take in order to accomplish those tasks. Record them in a format that you can effortlessly share with people you invite to support you.
Use your creativity to make systemizing exciting and fun.

 

Rely on your inclinations to pick the routes of least resistance.
Do you have decent video skills?

 

For repetitive tasks that you do on your computer—uploading and formatting blog posts, scheduling social media updates or filling out online standard non-confidential forms—record your screen as you do them.  Narrate the steps.  Demonstrate what you do as if you were explaining to someone else how to do it.

 

To record your screen you might use software like

Jing

,

Camtasia

or

ScreenFlow

.  To take it one step further, have the video transcribed and turned into a more comprehensive set of instructions.  Save it in Google Drive to be easily accessible and editable.
Is audio recording easier for you?

 

For repetitive tasks that don't require visual directions (e.g., the steps for signing up a new client, putting together a gift basket for a client or ordering instructions) you can record audio instructions and then turn them into a checklist.

 

Use

Google Play

,

Audacity

or

GarageBand

to record your voice.  Then turn it into a checklist.
Do you like role-playing?

 

You can streamline activities that require your soft skills (e.g., holding introductory sessions with clients, handling phone inquiries or closing sales) by role-playing with someone, noting the questions you ask and recording the process. 
Ready to act like a boss?

 

If you already have an assistant, have her/him document your processes by explaining how things need to be done and having her/him put the details together in a document.

 

Save the material in Google Drive or any other database you use so that it's easily accessible to your future team member(s). 
Make sure you save this information in a folder dedicated to your systems. Create a uniform labeling system so that you can slowly build up your very own business operations manual.
Meet Power with Structure
The internet is a very powerful medium that can—in just the blink of an eye—transform your business, sales, and partnerships. 
Leverage the good fortune and hard work that went into scoring this unplanned attention. By being prepared to handle overnight success with a structure ensures your clients have a transformational experience!
Back To You
How well could your business handle a rush of orders?  What items from the checklist above need your attention?