ASANA FOR SMALL BUSINESS
Have your small business run like a well oiled machine
Reclaim Your Sanity and Get Back in Control with One Tool that Can Do it All
Imagine…
Being in control of your business and knowing exactly what you need to do next.
Feeling confident that day-to-day operations of your business are optimized and organized in one central, easy-to-access location.
Being able to finally focus on high-leverage projects to take your business to the next level.
Saving yourself headache, time, and money by getting rid of unnecessary tools.
Having an easy way to whip through your tasks and projects, tame your information overload, get to Inbox Zero, manage your business systems, collaborate with team members and contractors, and nurture relationships.
Sound's great doesn't it?
But you're not there just yet.
You've got an idea of what you need to implement, but you're intimidated by the tools and applications to manage it all.
You keep looking for new gadgets to help you manage your business more efficiently, but end up wasting time, energy, and money testing those tools and moving information from one platform to another.
Your frustration builds because you can't seem to find tools and systems that work for you. You hear your peers talk about the tools they swear by, but quickly get disillusioned when you start testing those tools yourself.
You feel exhausted by this constant quest.
You don't need to search any longer!
You can easily turn Asana into your go-to tool for managing your business and feel less stressed, be more productive, grow your business, and get back to living your life.
All you need is ASANA.
Maybe you even have Asana already, but haven't been using it consistently or gave it a try then fell off the wagon.
Once you discover how to use Asana to its full potential, I promise you'll get addicted!
Asana is much more than project and task management software.
It allows you to whip through your tasks, tame your e-mail overload, complete never-ending projects, nurture relationships, collaborate with your team members or contractors, manage your business systems, and much more.
Find out how with…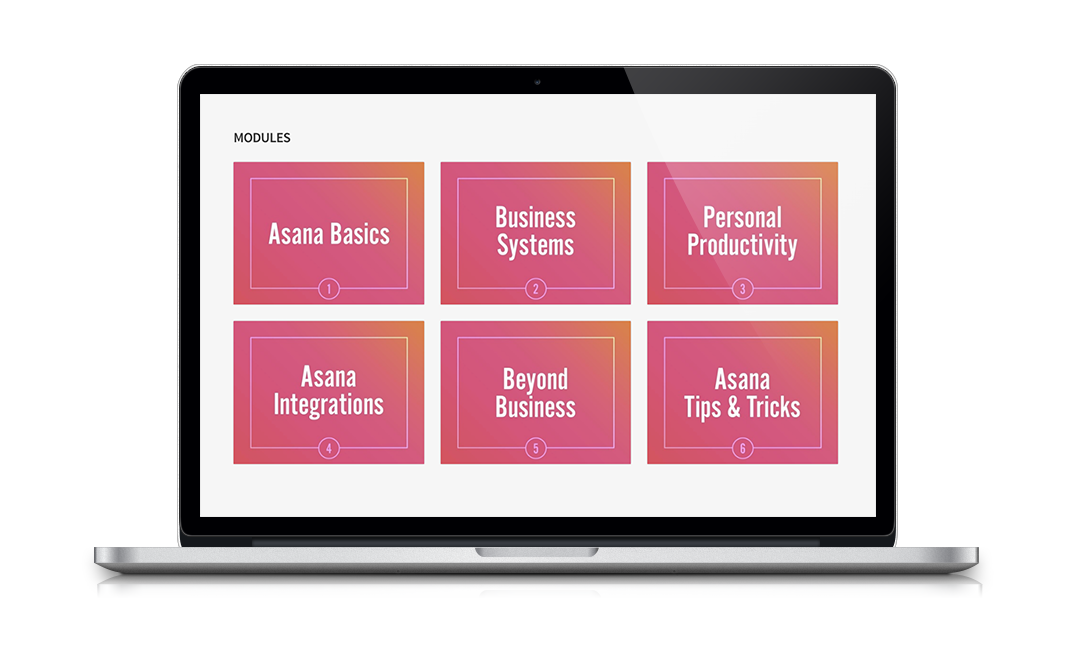 In Asana for Small Business, I show you exactly how to manage virtually every aspect of your business using Asana.
I was already a fan of Asana, but thanks to Asana for Small Business, I've discovered so much more I can do with it, and now I'm a huge fan! Natasha's guide also clearly explains how to use Asana for unexpected things beyond task management, like managing client projects and relationships. Asana is the tool at the center of it all, but I've discovered that the approach outlined in this guide extends into every part of my business. As a result, I'm taking huge steps toward organizing systems, finding new and better ways to delegate tasks, managing my time better, and so much more. Thank you for creating this amazing resource, Natasha!
I am OFFICIALLY an ASANA junkie now! Seriously. I am SO organized. For the first time, ever. I spent all of last year trying to be a paper planner — and that does work for me in many ways. But the truth is that all that paper was making my head spin.
Now, I have EVERYTHING in ASANA. I mean .. how to get blog post inspiration, how to write an effective blog post, my entire weekly content strategy, podcast and launches.
I have more to do but this feels great. I'm learning so much from your ASANA guide!
Asana for Small Business is a guide that. . . .
Puts you in control of your business and shows you how to effectively manage it with Asana
Gives you step-by-step written instructions on how to use Asana as well as video tutorials
Supplies you with lots of templates you can copy and paste right into your Asana
Shows you how Asana can do it all so you can stop juggling tons of tools
Enables you to finally have a single business management hub
Saves you money
Asana for Small Business is specially designed for small business owners.
This is the only product on the market that provides you with a comprehensive and systematic approach to using Asana for your business.
My Promise

Asana for Small Business will give you back hours to spend with your loved ones or focus on your "zone of genius." It will also save you money because you won't need lots of separate tools to manage your business efficiently and effectively.
But most importantly, with Asana for Small Business you will finally crush the chaos and streamline your business. You'll feel happy, more relaxed, and more present. You'll have more fun—in your business . . . and in life!
START OPTIMIZING YOUR BUSINESS TODAY!
I know how busy you are.
So I'm not inviting you to do yet another course or program.
Instead, I'm offering you an all-in-one guide that teaches you exactly how to optimize your use of Asana to run your business.
The guide gives you clear step-by-step instructions, plus all of the Asana templates I've created for my own business and private clients. You can use them exactly as they are or modify them to suit your specific needs.
Your investment in the guide can save you hundreds—even thousands—of dollars because you'll be able to get rid of costly tools that you don't actually need!
Fall in love with Asana as you discover how to make it your business management hub.
I just completed your Asana e-course and I just wanted to let you know how pleased I am that I made the purchase. Every chapter gave me new information, useful ideas that are immediately applicable to add value to my business. It was a pleasure to go through, with videos to watch and clear text points. Great job on creating this product. Well worth the investment.
In 5 minutes of speaking with Natasha, she saved me 3 hours of work per week in my business. I jumped at the opportunity to read Natasha's new book because I knew that the laser focus she brings to her coaching could help me optimize my Asana workflow, even as an experienced user.
Asana for Small Business did not disappoint and I've already rearranged my workflow with the easy tips and great video content. It looks like I'm heading for another free hour a week thanks to Natasha's guidance!
I've been using Asana as a project management tool for my business as well as my client's businesses for over a year and
this guide has helped me to save time and do new things with Asana to grow my business!
The guide itself has videos, checklists, bonus sections, examples, and more making it so easy for anyone to understand and implement! My favorite section was on managing my time, which I think most entrepreneurs agree they need more of.
Natasha and her Asana guide have given me ways to use Asana that I never realize existed, I look forward to getting more done and having time to spare thanks to this tool!
Already using Asana? This guide will:
Open your eyes to ways to use Asana you hadn't thought of before
Provide you with templates to manage all of your essential business systems in Asana without adding more tools to your toolbox
Teach you hacks to use Asana more efficiently and to its full potential