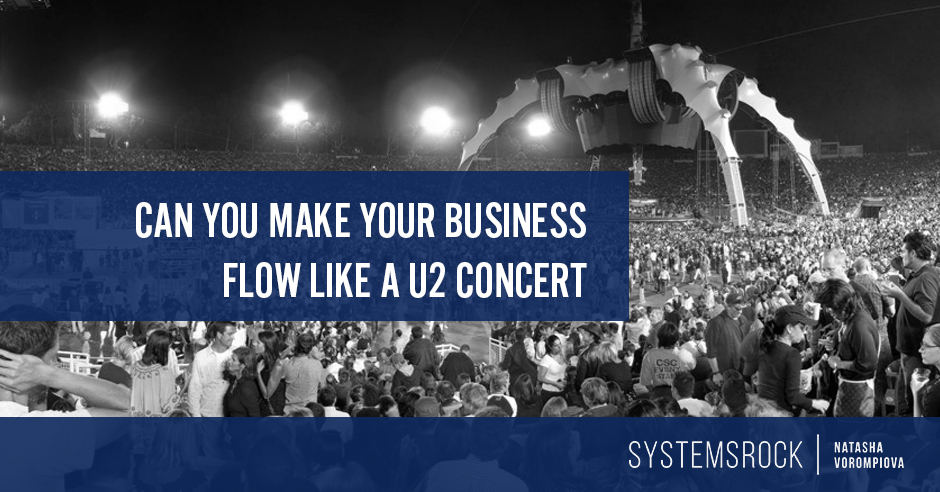 First published in YFS Magazine.
A roaring crowd of 90,000 fans greeted U2 at the Camp Nou stadium in Barcelona on June 30th, 2009.  It was the first of the 110 shows of the 360° Tour. The tour was named for a stage configuration that made it possible for the audience to almost completely surround the stage.
Construction of the stage was of gargantuan proportions.  The steel structure weighed 220 tons. The four legs were supporting 170 tons of giant screens, audio, and lighting.  It would take five days to erect the structure and another two days to dismantle it before transporting it to the next venue.
The challenge involved maintaining the flow of the back-to-back concerts while seamlessly assembling and transporting "The Claw" between tour dates. 
The staging company built three identical stages so that while U2 was performing at one location, another stage was being erected at the next venue.
Creating and executing a flawless system produced remarkable results.
Though the magnitude of this project was out of the ordinary, it's a great lesson in creating a flow of operations in your small business.
Here's how to hit the right notes.
1. Get Clear on Your Goals
You have to know where you're heading and how you're going to get there so you can stay focused. That focus can help you easily differentiate between opportunities and destructive distractions.
This clarity also enables you to establish boundaries and to say "no" to things that fall outside of your priorities.
Being able to clearly express how people can contribute to you and your business will help you attract these individuals into your life so that you can materialize your big vision.
2. Create Solid Systems to Structure your Business Flow
When we talk about systems, our minds immediately jump to technology–online schedulers, automatic distributors of messages, online payments and order processing… 
They are an absolute must, but there is more to systems than that. 
Your business procedures are systems.  They are sequences of tasks that take you from point A to point B and allow you to produce the same great outcome over and over again.
When you have systems, you don't have to think about keeping yourself on the right course.

 
You're not stressed or confused about which way to go. You feel the way you sometimes do when you know the way to a familiar destination and arrive there with almost no effort or thought.
Just like U2 follows a set of steps to record an album or give a concert, you can create and follow a procedure to manage your inbox or accept a new client.
3. Ship It
There is no better way to create flow than by constantly "shipping" projects. 
It is very easy to get caught in a trap where you are working on something continuously in an attempt to make it absolutely perfect before sharing it with the world. 
The problem is you will never arrive at the point where your creation is absolutely perfect—you, your audience, and technology are constantly evolving.  There will always be a way to make your project or product better. 
But while you are stuck in analysis paralysis, you're depriving your clients of something that could make a positive difference in their lives. As well as missing out on opportunities and revenue.
Besides, by shipping small, imperfect projects, you will be learning how to improve them next time, not just making hypotheses based on what you've read or heard. 
Bit by bit you are building your tribe and releasing the next thing based on their reaction to your previous offering.
Do you really think U2 could've had an audience of 90,000 for their first 360° Tour? Of, that they would sell out every single one of over 100 following concerts within minutes after opening the cart? If they had waited to release the first couple of albums would they made "The Claw" stage a reality? 
You know the answer.   
4. Stop Doing It All Yourself
Your company's biggest leaps are only going to happen when you free yourself—physically and emotionally—for the BIG things. 
There are things you are not good at (and don't need to be). There may be things that you hate so much you have to twist your arm to get them done. And, there are also things that are not the best use of your time.
Yes, in the very beginning, you might have to take care of everything in your business.  You need to learn the ropes.
Know when to let go so that you don't become the bottleneck of your own business and prevent further growth.
You've got to let go of the DIY attitude and look at delegation from an investment point of view. 
The 360° Tour became possible because of the incredibly knowledgeable and fearless team, which turned a simple sketch into a one-of-a-kind structure. 
In an era of declining music sales, U2's 360° Tour set a record for the highest-grossing concert tour with $736 million in ticket sales. 
It is something that's unlikely to be recreated again for many years.
Ready to Rock Your Business?
What is your vision for your business?  What structures do you need to create to bring it to life and make your business flow?