Does Running Your Business Leave You Feeling Run Over?
You know how you:
React emotionally when things are disorganized?
Feel moody at various points in the day?
Get frantic when you try to set work aside to spend time with your kids, spouse, and friends?
You are excited that your business is growing, but the relief that you thought would follow once you've built your business to a certain level is nowhere in sight.
Instead, there are greater demands on your time and constant tests of your organizational abilities.
As a result you feel:
Scattered, because of all your incomplete projects
Upset with yourself for not being able to stick with your systems or routines
Tired of having to use tape to attach the sticky notes with your ideas and to-dos to the wall, because they've been hanging on that wall so long that the glue has dried
You keep looking for new gadgets to help you manage your business more efficiently, but end up wasting time, energy, and money testing those tools and moving information from one platform to another.
After trying, what feels like, all of them, you find that:
The lists you create in Asana suffocate you
You can't rely on Basecamp, because things get lost all the time
You don't dare add more information to Evernote, since it's an information graveyard already
Let me tell you a secret…
Sticking with a tool becomes effortless when you know how to make that tool work well for both you and your business.
Trello is much more than just project and task management software.
It has revolutionized the organization of my clients' businesses and has allowed them to finally reclaim their peace of mind.
They confidently RUN their businesses instead of being run over.
In less than two months I've become a Trello evangelist and tell everyone who will listen how awesome it is…. But it is also a matter of having mental and internal structure, systems, and Natasha's methodology in place that makes working with Trello so perfect.
Trello makes it easy for me to focus, even when my life feels chaotic. From projects to day-to-day operations, Trello allows me to organize my thoughts and my work efficiently. I'm getting more done…without buying extra sticky notes!
Now, you can have access to the same clear and exciting approach I developed for them.
Introducing… TRELLO FOR SMALL BUSINESS
Trello for Small Business: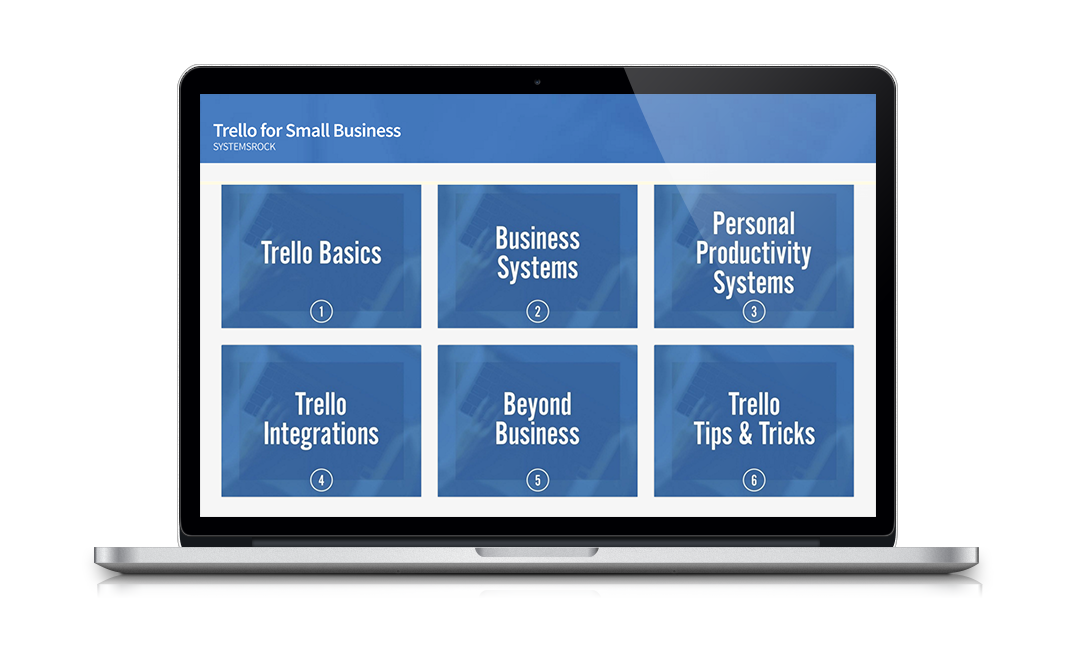 Puts you in control of your business and shows you how to effectively manage it with Trello
Gives you step-by-step written instructions on how to use Trello with nearly 30 video tutorials
Supplies you with 15+ board-templates you can copy right into your Trello
Enables you to finally have a primary business management hub
Turn Trello into your go-to tool for managing your business. You'll feel less stressed, more productive, and totally focused on growing your business.
You will finally crash overwhelm and get back in control of your business. Your distress will dissolve. You'll feel happy, more relaxed, and more present. You'll have more fun—in your business… and beyond it!
Trello for Small Business is the only guide on the market that provides you with a comprehensive and systematic approach to using Trello for your business.
In Trello for Small Business, I show you exactly how to manage virtually every aspect of your business using Trello.
We cover topics like:
Taming Email Overload
Keeping Track of Tasks
Turning Trello into your CRM–Client Relationship Management tool
Managing Repetitive Projects/Processes
Blogging Consistently
Onboarding and Managing Clients
Collaborating with Others
And much more.
Trello for Small Business includes clear step-by-step instructions, video tutorials, and links to the Trello board-templates I've created for my own business and private clients. I will show you how to use them as is or modify them for your needs.
Frequently Asked Questions:
I've never used Trello before. Do I need to learn how to use it before buying Trello for Small Business?
No, you don't need to learn Trello beforehand.  I've dedicated the first two chapters to Trello basics.  So, if you are relatively new to Trello, by the time you are done with those tutorials, you'll have a solid understanding of how Trello organizes information, the functionality of the basic elements, and operations you can perform in Trello to accomplish everything I'll recommend to you in the rest of the Guide.
What if I'm already using Trello?
Fantastic!  Then you can skip the introductory part and dive directly into how you can can leverage Trello to make your days most productive, keep track of business management activities, and move the needle on projects that grow your business.  I'm certain the Guide will open your eyes to ways to use Trello you hadn't thought of before and teach you the hacks you need to use Trello more efficiently and to its full potential.
How is Trello different than Asana?
The biggest difference between Asana and Trello is in how they display information.  
Asana, as you know, is very linear and list-based.  Trello, on the other hand, is based on a Japanese concept called "kanban" boards, which help you focus on status in projects as opposed to due dates.  The fact that all the moving parts of a project or process are laid out before you on a board, takes ambiguity out of what needs to happen and allows you to estimate your  workload more realistically.
In Asana, you get satisfaction from checking off completed tasks off (and, if you've installed the add-on, flying unicorns :).  In Trello, you get to physically move the cards from one list to the next as steps are completed, which allows you to clearly see your progress in a more tangible way.
I know you've been using (and promoting) Asana. Are you switching to Trello now?
I'm still a very big fan of Asana.  I will also keep promoting it to the people Asana is right for.  I am a strong believer in choosing tools based on what's right for each person and his or her business.  For one it will be Asana, for another–Trello, and for somebody else–Evernote :).  
I take joy in teaching how to use tools to their full potential.  This allows me to give you a more efficient and productive way to find the perfect tool for you–the one that works effortlessly in your business and your life–so you can get back to the business of actually running your business.
As for my own preferences, at the moment I still continue running my business out of Asana.  But I did recreate a number of my systems in Trello to test them for the Trello for Small Business Guide.
So, no, I haven't switched, but having discovered Trello's brilliance, I now find that for some projects, specifically those that are date based, I am more driven by the linear format of Asana.  For the projects I need to see in a more visual way, Trello is absolutely the clearest and most efficient way to see my progress and my next steps.
You may find yourself completely happy in one or the other, or possibly, find places in your business for both.  For that reason I have included a chapter in Trello for Small Business on how to use Trello in tandem with Asana.  Just promise me, if you choose to use both, master one before adding another.
I love systems, in fact I tend to see the world through a systematic view. However, as a visionary entrepreneur I find very challenging designing strategic structure and moving to the doing in my business. Natasha's inspiring guidance with the use of Evernote previously and now with Trello has giving me the ideal creative platform I needed to take care of my clients and manage my business.