Get X-Ray Vision Into the Inner Workings of Your Landing Page
Read Your Prospect's Mind
You've gotten very far by following the standard model:
Ad traffic > a landing page > leads. You have numbers on how many people click, and how many opt-in. 
But you have no earthly idea what happens in between. 
Where do all those people fall off the map? What are they thinking? 
…What do they need from you to understand the awesome value you offer? 
When you're ready to level up to a 7 or 8-figure business, you're not going to do it by doing more of the same. 
Of course, simply throwing more money at ads will work…up to a point. But the key to explosive growth is finally getting out of the trap of feeding the insatiable marketing beast that constantly whispers in your ear: "Create more, publish more, post more, launch more, advertise more…"
The path to the business you dream of isn't doing more. 
It's doing less…but doing it better.
Gain surgical precision over your marketing funnels, and adjust the dials with exquisite precision to achieve the outcome you're aiming for.
See into your blindspots With Your
Custom Landing Page X-Ray
Let's be honest. It's great to have landing page performance benchmarks, but you either hit those marks, or you don't. Those numbers won't help you to figure out how to adjust your marketing to grow your client base.
What will make a difference? If the data you collect: 
Answers your burning questions and drives action 

Pulls back the curtain on how someone behaves on your landing page…beyond simple heatmaps 

Reveals to you how familiar someone is with your offering and how much trust you've already built with them.
Rather than living in uncertainty and anxiety about what would make your page more effective, you'll know exactly what fixes need to happen…and you can verify that the fixes work. 
Instead of stalking those who didn't convert with standard retargeting ads and alienating a good portion of your prospective audience, you'll be able to use retargeting ads to focus on building exactly the kind of awareness and trust that will  make a case for your offer when the time is right. 
This is  exactly where so many businesses miss their opportunity to optimize their marketing as they begin scaling their efforts. 
This is the kind of 1% optimization tweak that can make a 99% difference!
We can turn your numbers soup into a crystal ball,
so you know exactly what to do next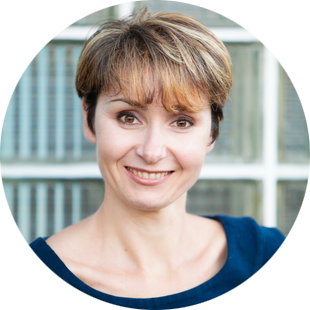 Hi, I'm Natasha, and I'm a Metrics Whisperer. My clients call me their secret weapon because I not only help them collect key metrics into easy-to-read Control Panels…I reveal the meaning behind those numbers.
I'd love to build a Landing Page X-Ray for you so that you can:
Eavesdrop on the internal dialogue someone is having when looking at your sales or landing page

Create a level of intimacy at scale that  allows an audience member to feel like you're talking just to them

Gain visibility into what works and what doesn't about your landing page, so that you can make precise improvements

Know exactly what dials to tweak to produce the revenue you've been aiming for

Make the most out of the traffic you are already paying for
Investment
Your investment is $1497.
This price will be offered to the first 3 people who order their Reports and the price will double after that.
If you're selling a high touch offer, your Landing Page X-Ray will pay for itself several times over…in month one.
Kick Off Call:

We'll meet for a 60min Kick Off Call to discuss the role your landing page plays in the funnel, how you intend the page to work, and what blindspots you want to shine the light on.

Access to GA and GTM:

You'll give me access to your Google Tag Manager and Google Analytics accounts so that I can set the necessary tracking.

Measurement Magic:

Then, I'll do my magic by building the reporting machine and the Report itself to show you how your different audience categories interact with your landing page. Your ads manager will also have access to that data to refine your retargeting campaigns. 

Timeline:

Normally, once I get access to your GA and GTM accounts, it takes 10 business days to build the Report and 1-2 weeks to start seeing behavioral patterns (the amount of time depends on the volume of traffic coming to the page).

Additional Deliverables:

Together with the Landing Page X-Ray I will share with you my observations and recommended action steps. Your Report is

guaranteed

to be actionable.

60 Days Support: You'll get a monthly video with new recommendations so you can apply the recommendations and see how they transform your funnel.
Join a long list of business owners we've helped to achieve exponential business growth.
Here's what our clients say about us…
I don't really have a fear of growing too fast too soon anymore, because I'm confident that we'll be able to bring this new setup along with us and that it will be that underlying foundation for us to be able to keep track of everybody and make sure that everybody's getting the service that they're paying for.
I'm so pleased to have this new system for tracking my students. It's seamless and easy, and I never have to dig up obscure data anymore. As far as time spent, I went from 30 hours to 5-6. But I also use the information the system provides more. I'm in there all the time, because it's so useful. It's a one-stop shop for all my data.
I put such a tall order on you. I've been wondering how everything I have given you will come together, but you made it happen! I feel like all of the things to get my business ready to grow next year have happened!
Investment
Your investment is $1497.
This price will be offered to the first 3 people who order their Reports and the price will double after that.
If you're selling a high touch offer, your Landing Page X-Ray will pay for itself several times over…in month one.