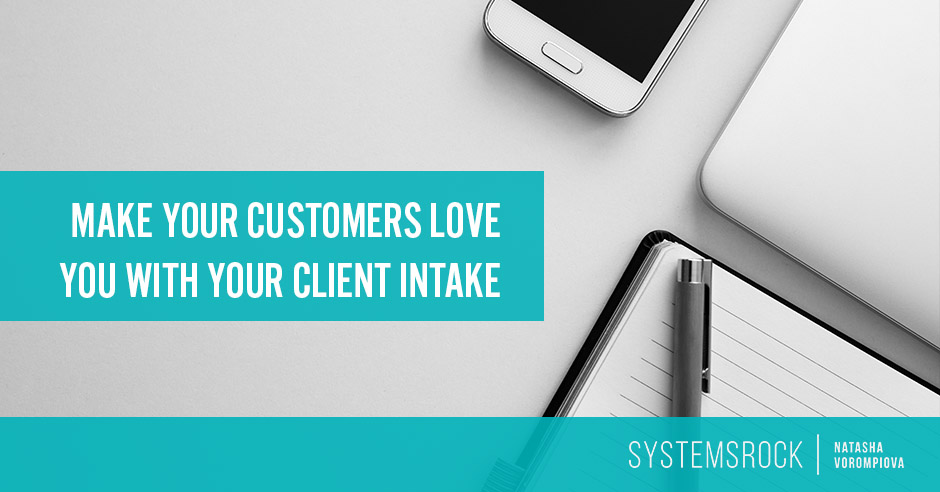 Do you know the single most important factor for sustaining your business and making it incredibly profitable?
Creating superior customer experiences.
Studies reveal those experiences are absolutely crucial for bootstrapped micro-businesses that rely heavily on word-of-mouth and referrals for bringing in new customers.
Can you answer all of these questions with a confident yes?
Is my site easy to navigate?

Do I speak my clients' language?

Do I understand my clients' pain points and show them the transformational benefits of working with me? 

Does my service/product deliver on those promises?

How easy is it to get a hold of me (or someone on my team) to resolve a question or an issue?
I bet you can answer in the affirmative.
And that's great because these basics are crucial.
But there's something else that's absolutely essential for creating amazing customer experiences. 

I

t's your client intake process.
Look at your client intake process through the eyes of a new client. 
Your goal is to make sure that the process is flawless and super smooth. 
5 Benefits of a Smooth Client Intake Process
It conveys your expertise to your new clients and strengthens their confidence in you.

Customers feel special, and you reduce any feelings of "buyer's remorse," especially when they've made a significant financial commitment.

You gain control of your time.

It's easier to service more clients without sacrificing quality.

You're more likely to get paid on time.
Let's look at the moving pieces of a great client intake process for a service-based business.
1. Initial Contact
You need to make it really easy for potential clients to get in touch with you in order to let you know they're interested in teaming up with you.
Simplify things for them by making sure your site and blog posts include:
Links that open into blank e-mails with your address and the subject line already filled out

Easy-to-spot links to your online scheduler so potential clients can book a session

Application forms

"Buy Now" and call-to-action buttons

Your telephone number 
Prepare for initial consultations by having a list of probative questions ready in order to better understand the scope of the project and to determine if this person qualifies as a good client.
2. Written Commitment
After the client makes their initial commitment, clearly communicate to her the nature of your working relationship.
In your contract or proposal, describe these 4 important things: 
Scope of the project

Responsibilities of each party

Timelines or milestones 

Payment conditions
Simplify the process for your client by using an electronic signature software like EchoSign or HelloSign.
Make sure the document is signed before you begin delivering services. 
3. Payment 
Collect payment (prepayment, the first installment or the entire amount) before starting on the project.
This approach ensures you get paid while also making the client feel more committed to the process of working together. 
4. Internal Setup
Once the payment is received, get your client set up in your internal systems.
Enter them into your client relationship management database (CRM) and include their website address, social media details, mailing address, birth date, and interests. 

Set up a new project in your project management system so it's easy to communicate and deliver pieces of the project.

Let people on your team know how they'll be supporting this new client.

Send a meaningful gift or note to thank the client for choosing you as their service provider. 

If the client came from a referral, make sure you acknowledge and thank them.
5. Set Your Client Up for Success
As you're making the above arrangements on the back end, take a few moments to explain to the client how your working relationship will be structured and give them all the necessary details.
The best way to do this is by providing a Welcome Packet.

 
Put yourself in the shoes of your client and see what questions they may have:
What's going to happen?

How are we going to work together?

How am I going to set up meetings?

What are the timelines/deadlines?

How/when do I pay?

What part of the project am I responsible for?

What happens when/if we miss a deadline?

What do I do if I have to cancel?

Who can I talk to if I have questions?
Welcome Packets are as valuable to your clients as they are to you because they create transparency and strengthen boundaries.
If you've had sticky situations (e.g., clients didn't show up to a meeting, missed a deadline, didn't give you enough notice to handle something, or disappeared and then suddenly reappeared), specify how they'll be handled and introduce penalties.
Now, if a problem surfaces, all you'll need to do is refer back to these policies.
Taking The Lead Impresses Customers
Clients hire you for your expertise.  You need to provide them with clear guidelines in order for them to never feel lost or let down. 
When you're in charge and have guidelines that support their success then your clients will love you even more, talk about you non-stop, and refer others to you.