You're Running Your Business in Reactive Mode
More and more customers are finding you. You're signing new clients, creating new programs, and expanding your reach. It should feel great…not overwhelming. But that's the reality, isn't it? You feel like you're drowning in tasks with no time to get strategic or even enjoy your work.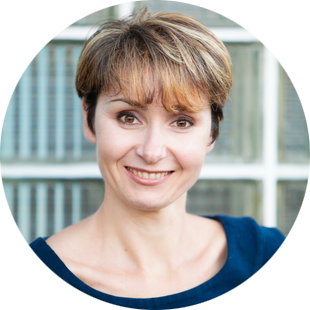 People keep telling you "systems are the answer." Sure, that's great…but you can't even imagine having time to create a system. And honestly, you don't even know where you'd begin.
Welcome, my friend. You've arrived at the right place. I'm ready to help you step out of overwhelm and discover more time to do the creative work you love. Not by creating new systems, but by capturing (and improving) the way you already do things.
Imagine completing administrative tasks with ease, marketing consistently, and helping your customers understand what to expect – so you can get back to doing what you do best. That's what happens when your systems work for you.
More on that in a minute…but first I want to tell you a bit about me.
I never set out to teach systems.
Call me a nerd…a perfectionist…a control freak if you like. I've always loved creating systems for managing information. In fact, in my former life I was a corporate systems expert.
Here are a few highlights:
I formulated and implemented a systematic education campaign for a shopping center in Ukraine. This quickly resulted in a 75% growth in customer awareness.
I spearheaded a system overhaul for one of the Big 4 auditing firms in Cyprus, transitioning one division to a paperless office and directing the migration to an interactive client database system.
I grew the client roster of a New York based media intelligence company by creating a system to turn one-sale clients into 6-figure accounts.
Creating successful systems has always been easy for me. So, when I left the corporate world and started a business working from home I was expecting a smooth transition.
Boy, was I wrong!!
Turns out, having a track record of creating and managing systems in the corporate world didn't help me much when I first started working from home.
I had never run a business before, let alone an online business. So, the learning curve was quite steep. My to-do list kept growing and growing.
Not only was I laying the foundation for my business at that time, I was also taking care of an infant, managing a household, spending several hours a day at the university learning Flemish–the language of the area in Belgium where we live–and working part-time for a law-firm.
I wasn't just busy, I was going absolutely crazy.
AND I was torturing myself for not being able to manage it all. Maybe you've had this experience too!
My original business idea was offering marketing consulting services, because of my education, skill-set, and experience. But I was so bad at managing my workload that I began questioning my choice to become a business owner.
Out of desperation, I started listening to the interviews of established business owners to learn how they built their businesses. Most of them attributed their success to one thing… "Systems."
Finally, a familiar word! But…
I felt like I was missing something. I knew systems were integral for a big established business with a suite of products and a team of employees. But I couldn't understand how I could take advantage of systems as a one-person business.
And then… I got it!!
I remember the moment "I got it" like it was yesterday. I was listening to an interview with Laura Roeder and heard her mention that her system started as simple checklists.
Suddenly it all made sense! I realized that when the owners of established businesses were saying "systems," they didn't necessarily mean expensive tools and complex processes. They meant checklists, step-by-step workflows, and routines.
Systems Redefined
Right away, I started paying closer attention to the steps I took to do something and turning them into a checklist or workflow. I also developed my definition of a system:
"System" is just a sequences of tasks that takes you from point A to point B. What makes that sequence a system is that it's easily repeatable and produces the same outcome time and again.
So, in essence, a system is an optimal, consistent way of doing something YOUR OWN way. Its main function is to spare you the burden of having to think about how something needs to be done, NOT to put you in a box and constrain your creativity.
Turning point
As I played more and more with my systems, I noticed that my sanity started returning. I had more time to take care of myself, build my business, and enjoy my family.
The success I enjoyed creating new systems to run my home-based business inspired me to tackle the challenge of designing productivity systems for other creative entrepreneurs. I let go of my idea of becoming a marketing consultant and founded SystemsRock.
Now, I have the pleasure of working with online-based service-oriented micro-businesses. I help them not only get more done in less time, but get more efficient so they can (finally) concentrate on what's most important to them.
Breaking the Stereotype
I strongly believe systems are not something you "do" to your business… imposing a logical order apart from who you are as a person. The best systems come from within and are based on the ways you do things.
Rather than focusing on information and technology, my approach looks at your personality, creativity, and values. The systems you create may feel foreign to others–and that's absolutely fine. My goal is to guide you to systems that are fully aligned with your values and perfect for you.
This unique approach nourishes your creativity, while helping you establish the essential foundation systems you need for your business to truly flourish. This revolutionary approach allows you to run your business efficiently while remaining on top of your creative game… and enjoying a rewarding personal life too.
Sound too good to be true? I'm living this life of organization and efficiency. Let my approach create a systems revolution in your life too.
Natasha
Not sure where to begin? Let me help you get started.