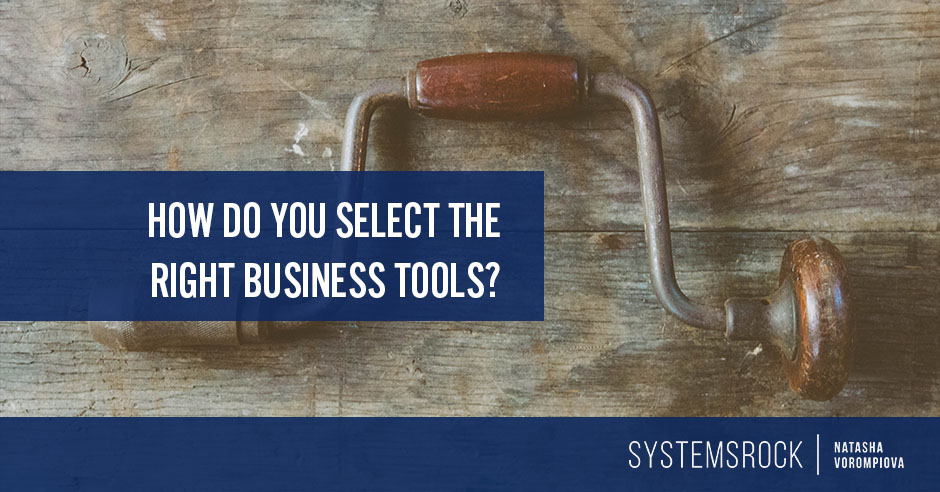 Want to know what everyone is always asking me?
I get hundreds of requests for my recommendations for software tools and gadgets that will increase efficiency.
Technology offers so many great ways to optimize the process of running your business and even putting some parts of it on autopilot.
Payments, finances, scheduling, customer management & support, and social media are the top 5 areas in which technology can save you lots of valuable time.
A Word of Caution
Adding more software tools doesn't necessarily increase your efficiency.
If you're not careful, you can easily end up with a bunch of tools that waste your time and eat up your money.
Trust me.  I've been there — done that.
Shortly after launching my business, I heard about how E-junkie would allow me to sell digital products with ease, which sounded wonderful, so I signed up and intended to use it right away.  I never did get around to using it, but I kept paying for the software for over a year (!!) because I thought it would motivate me to create a product.  The monthly fee was just $5, but I'm not proud of myself for having wasted that money!
Even if the tool is free, there's no reason to keep it if you're not using it.
Tools that you're not using take up physical as well as emotional (yep, that's right!) space.  You're still stumbling on them here and there, making mental notes that you should get rid of them, allowing those "I should" items to drain your energy.
Create Space for Your New, Necessary Tools!
a) Take inventory of the tools that are currently in your arsenal.
List the tools you're using for collecting payments, keeping track of finances, scheduling meetings, managing clients, storing information, communicating with your list, handling social media, and so on.
You might also want to take a look at your monthly bank statement, so you don't miss any charges for tools that are automatically deducted from your account.
b)  Put "OK" next to the tools you're consistently using or ones that you know are acceptable solutions for the time being.
Set a date 6 months from now (and put it on your calendar) to reevaluate your tools and make sure they're still right for your business.
c)  Put a question mark next to the tools that aren't wowing you and that you intend to replace.
d)  Put an "X" next to the tools that you haven't been using for at least 3 months.
Set aside 15 minutes this week to unsubscribe from all the tools with an "X" next to them.
Now, let's talk about what you should base your decision on when you are choosing a tool for your business.  It certainly should NOT be the fact that the tool is cool or it's highly regarded by a person, whose opinion you respect.
Adding more software tools doesn't necessarily increase your efficiency.
Tweet this
!
Those can be valid reasons, but they won't serve you.  Whenever selecting a tool, you always have to look at its suitability through the lens of your business, the rest of your tools, and your goals/needs for it.
How to Determine Which Online Tools Are Right for Your Business
1.  Make a list of "must-have" features.
Consider how your new gadget will fit into your way of doing things. Does it need to "talk" to another application? Are there any other absolutely necessary elements that it has to have? In the Systematic Success program, we've been spending a fair bit of time discussing the best tools to manage leads and clients. Here is a great example of a "must-have" list. It was recently shared by a participant during her search for a CRM (Client Relationship Management).
Clean, easy-to-use interface
Ability to manage email inside CRM
Ability to monitor social media posts about my services
Reports on how and when clients find me
Details about how I'm progressing in the sales process and reports that help me evaluate my relationship with leads
Good mobile features—I travel a lot
I'm not technical, so I need a good support system and excellent customer service from the CRM company
Integrates with MailChimp
2.  Create a list of "nice-to-have" features.
Here you get to indulge.  Think of features that would make your life easier or visual elements that would be appealing.
Maybe it's an intuitive interface, reliable mobile features, or availability of an iPhone/iPad app.
3.  Review your existing tools.
Run through the tools you already own to make sure none of them have the features you're looking for.  This step is important so that you don't end up with a "bunch of stuff," as George Carlin would put it
4.  Research the alternatives.
Searching for the *right* tool can get overwhelming.  But if you're clear on what you are looking for, it's that much easier to narrow down the list of options or simply ask for advice.
Check out this article on CRMs to simplify your decision-making process.
5.  Test your find.
If the software you chose has a free trial, use it.  See how it feels.  Listen to your intuition.  Remember, you are not looking for *the best* tool.  It just has to be right for you and your business.
Take Action Now
Are you paying for tools that you're not actually using?  If so, let me know how much money you'll be saving now that you've canceled your subscription.