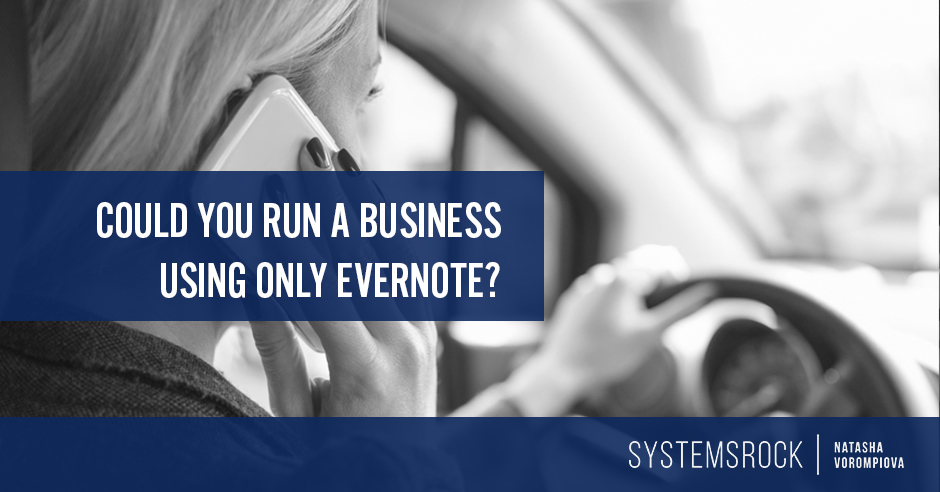 Yes, you will need your e-mail and whatever software you use to manage your list of subscribers, but just about everything else can be handled by Evernote.
Even the free version of Evernote can easily help you manage your tasks, inbox, client work, relationships, and projects.
With Evernote, you can. . . .
1.  Whip Through Your Tasks
When it comes to managing tasks, it's essential to have a single place to add, store, search, and get notified about items that are due.
Evernote meets every one of those requirements:
Add:  You can install Evernote on your computer and on practically any other mobile device, which makes it super easy to add tasks on the go.
You don't even have to have an Internet connection for that.  Your notes are synchronized across your different devices the moment you are connected to the Internet.
Search: Creating a separate notebook (called Task List, Action List, or whatever you'd like) for your tasks is a super easy way to quickly find your tasks.
Adding tags—ideally a combination of them—will make finding whatever you're looking for even easier.
Here's how your tagging system could look:
Use "task" tag for all to-do items
Use "task" and "follow-up" tags for when you need to remember to check in with someone
Use "task" and "waiting" tags for projects that involve collaboration
Use  "task" and "project-name" tags for action items related to specific projects
Use "task" and "client-name" for items that require you doing something for your client
Run general searches to get an idea of what's in your pipeline.  Do more specific searches to figure out whom you need to follow up with or what's outstanding for a specific client or project.
Schedule reminders: Evernote has also an amazing feature where you can set a reminder and have the system notify you when an item is due.
2.    Get to Inbox Zero 
Yes, Evernote can help you get to the coveted Inbox Zero.
As you'll recall, the premise behind Inbox Zero is that all e-mails that land in to your inbox need to be sorted and removed from it:
E-mails you don't need get deleted
E-mails you need to take action on are either responded to on the spot or turned into tasks
E-mails that contain information you might need in the future—saved
Here's how Evernote can make e-mail management a breeze.
You can easily turn an e-mail into a task by forwarding it to Evernote using your Evernote incoming e-mail address, which looks like this: [username].684735@m.evernote.com.
You can find your incoming Evernote e-mail address under Account Info in the desktop versions of Evernote, under Settings in Evernote Web, and in the Sync tab of Evernote for iPhone.
When you forward a task e-mail into Evernote, you can specify what notebook it belongs in, add relevant tags and schedule reminders (see #1)
Are you a Gmail user?  You can even set up a filter that will forward e-mails from specific senders directly into Evernote.
To save e-mails that contain information you might need at some point, follow the same steps.  The only difference is that in the subject of the e-mail you will identify a different notebook and tag(s).
3.    Tame Information Overload
Evernote is the best tool for managing information it's incredibly easy to add new details and search for specific pieces of info.
How to add new info into Evernote:
Copy it to the clipboard and paste it into a note
Drag and drop single and multiple documents
Save PDFs into Evernote from the Print window (for Mac users)
Clip articles, URLs, or entire web pages directly from browsers
How to easily search for info within Evernote:
You've got to come up with an intuitive structure for organizing the info you're saving into Evernote and master the search option.  Otherwise, you'll be looking for information longer than you'll be using it.
For better organization, think of useful categories of stacks of notebooks:
Business
Family
Finances
Recreation
Food
Each stack will have a range of notebooks in them.
Business

Project 1
Project 2
Content
Contacts
Business Procedures
Each notebook contains notes on relevant topics.
For example, your Content notebook might contain notes on:
Blog post ideas
Half-finished posts
Results of a survey where you asked what topics your readers are interested in
Frequently asked questions
Notes can be created directly in Evernote, clipped from the web, added using mobile devices, or e-mailed in.  Don't forget to add relevant tags.
4.    Nurture Relationships
Relationships are the lifeblood of every business.
Nurturing your network is easy with Evernote.  All you need to do is enter details about them and set up reminders to follow up and check in with them.
I recommend creating a separate stack called Contacts or People.  Depending on the nature of your business, you'd put in that stack notebooks like:
Prospects
Clients
Partners
Industry Leaders
Competitors
Referrers
Here's a simple template for the kind of info you can track:
Name
Website
E-mail address
Mailing Address
Social Media profiles
In the notes for specific people, you might:
Save web clips with interesting details you found about those people online
Add highlights from your last conversation
Schedule a reminder for when next to follow up
Forward your e-mail exchange (see #2)
This can become your own sales pipeline.
5.    Make Projects Happen
The most important things you need to manage projects are a timeline, an information hub, and a central place for communications.
Timeline: To keep track of due dates and create a calendar for your project, integrate Evernote with your Google calendar using Zappier, which will create a calendar item out of any note that has a scheduled reminder.
Information hub: We've already established how you can turn Evernote into the most amazing information hub.  Just make sure you create a new Project Name stack (or notebook for smaller projects) and continue uniformly tagging notes.
Besides web clips and PDFs you can also add into your project notes Google Drive and Dropbox documents, which is really convenient because all links in Evernote are live, so you won't have to download the same files over and over again!
Communication hub: Evernote is also great for collaboration.  You can share individual notes or whole notebooks with one or several people.  Since the information lives on Evernote, you don't need to worry about synchronization—once one of the collaborators makes a change, that note is automatically updated across all collaborators' accounts.
As you can see, Evernote is one mighty tool.  If you put it to use, you don't need much else to run your business.
Back To You
Do you use Evernote?  What's your favorite feature?