Stop Throwing Your marketing Money Away
Optimize your evergreen funnel with surgical precision with a

Funnel Vision Dashboard
It's impossible to grow your funnel sales consistently when you can't get straight answers about what's working and what's not:
Your funnel has been performing well, and then—out of nowhere— the numbers plummet.
You have no idea what happened or what needs to be fixed. Trying to get it back on track feels like throwing darts in the dark.
To get to the bottom of it, you task your team with improving the results of the funnel. The challenge is, everyone works in silos.
Your ads person, your copywriter, and your designer each go to work testing and tweaking their part of the puzzle to improve the metrics they are responsible for. But if each team member is laser-focused on only ONE element of the funnel, they may as well be the proverbial blind men describing the elephant.
You also don't know how much longer you can continue ignoring the black box between your marketing costs and your sales.
You've got the numbers on how much it costs you  to bring people into your funnel. You also know how many sales you get as a result. But what happens in between those two points is a mystery. Your only option is to do MORE: more ads, more content, more social media.  You feel like your funnel has become this insatiable beast that needs constant feeding. It's exhausting.
It's exhausting and frustrating—especially because you have no idea how effective (or wasted!) your marketing dollars are.
You keep looking for a magic bullet: you find yourself buying one course after another to brush up on your Instagram, video marketing, or copywriting skills. You throw thousands of dollars every month at your team, your Facebook ads agency, your marketing, and everything else. And you have no idea if any of it provides a  worthwhile return on your investment.
You built your funnel because you're tired of the exhausting, draining, feast-or-famine cycle of launching. 
You built a funnel in the first place because you are a smart, forward-thinking business owner, and you want reliable, automated, predictable revenue to support your business for the long haul. 
That's what funnels are FOR. 
But when you find yourself constantly needing to feed the funnel with more content, larger team investments, and more ads—without having any idea if all that money you're investing is going straight down the drain? 
That is NOT what you signed up for.
What if instead of drowning you in meaningless numbers, your funnel was an open book?
What if you could see how your customers move from one stage to the next—where they respond to your message and where they drop off?
You could turn your funnel into a precision machine. 
You could drive a steady stream of customers simply by adjusting the dials. 
You could be intentional instead of reactive with your marketing budget.
You don't need more numbers
You need to know what numbers to pay attention to and be able to see them at a glance
Let's be honest. You don't need more numbers. You've already got numbers pouring out of every platform, app, and campaign… 
…there are just so many of them…
return on investment

cost per lead

customer lifetime value

sales page clickthrough rate 

cart abandonment rate

step conversion rates

core conversion rate
to name just a few! 
That tsunami of numbers leave you with more questions than answers. 
They're not helping you be sure of the actions you need to take.
Maybe you keep hiding behind the story that "I'm just not a numbers person," telling yourself that all you need to make the right decisions is your intuition.  
We know that figuring out your numbers has taken a distant second to just throwing together a new offer or a new promotion for your existing audience to bring a bump of revenue.
After all, your existing audience knows how brilliant you are.
The big difference now is that you're ready to scale and grow beyond the audience that already knows and loves you. 
That means getting in front of a colder audience, exploring new partnerships and marketing channels, testing new messaging… 
Which means that it's precisely that mess of dreaded funnel metrics that's standing in the way of the world knowing your brilliance.
We can turn your numbers soup into a crystal ball,




so you know exactly what actions to take 

to bring in more sales
Imagine what it would feel like to…
Be crystal clear

about where every single marketing dollar is going …and how effective it is.

See at a glance which marketing tactics are making the most impact

and which efforts bring in leads that actually become paying clients.

Know exactly what happens from one step of the customer journey to the next

, which steps work well, and where leads drop off. 

Identify which emails generate engagement and sales

and which fall flat.

Determine instantly whether your advertising and retargeting are working.
When you've got complete clarity into your funnel numbers, you can:
Cross items off everyone's  to-do lists

just because they don't ROI, and focus solely on what does!

Catch a problem with your funnel

before it starts losing you money. Inversely, spot opportunities to significantly increase your ROI by making a tiny improvement.

Take precise action when a part of your funnel begins underperforming

instead of sending your team on a wild goose chase to spot the broken link of the chain.

Confidently forecast the revenue

from your funnel instead of basing your planning on hope.

Finally, turn your funnel into the predictable money-making machine it's meant to be

so that you can  turn your focus to what you do best—connecting with and nurturing your audience

.
Having total control of your funnel data would completely transform your experience of running your business.
You'd feel total confidence that the power is in your hands to connect with the people who need what you do

.
As dreamy as that sounds, you might be thinking…
Oh, great! What do I need to learn NOW?

 
You're tired of learning. And who could blame you? There are way too many courses already collecting cyber-dust in virtual information graveyard. Besides, you don't have time for that—you have a business to run, a team to manage, and customers' lives to transform.  
This sounds like it'll be a time suck.

 
You're done trying things that just end up producing more work. You are scrutinizing every initiative that might eventually find its sneaky way on your plate.
My funnel is custom; I don't see how this could offer useful information.
You no longer buy into the generic dashboard solutions that promise to display and analyze your data for you. They may look beautiful, but you still end up wasting your time staring at a wall of meaningless numbers.
I'm fine with numbers, but this sounds like it will require a degree in data analysis.
You understand the importance of numbers and, thankfully, are not allergic to them. But you can find something more enjoyable to do with your time than wrestling with making sense of them all.
Introducing the Funnel Vision Dashboard
Turn your numbers into your new superpower in 90 days
with a built-for-you Funnel Vision Dashboard.
Go from buried in an avalanche of opaque
numbers to making confident, revenue-
generating decisions by relying on a
customized dashboard for your
evergreen funnel.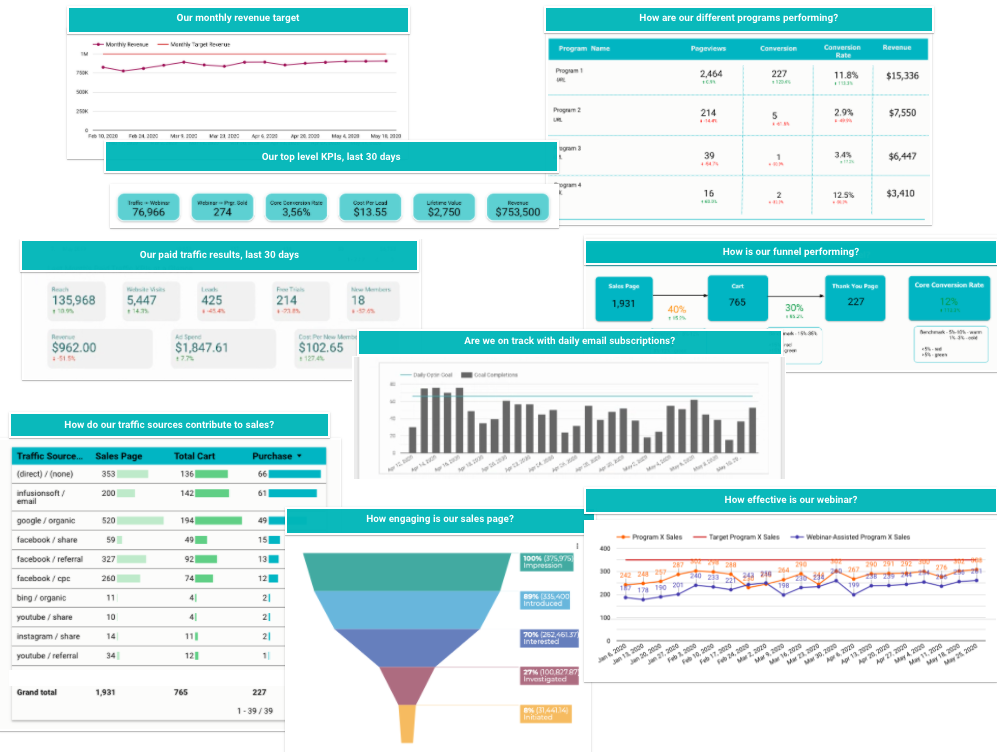 You'll get relevant, actionable information from your evergreen funnel dashboard as easily as reading the time on a watch. 
There is complex machinery that makes things happen on the inside, but all you see is the two hands showing you what time it is.
And that's because over the next 90 days, while you are running your business, we will:
Diligently make sure

that all the platforms that you use in your evergreen funnel talk to each other.

Painstakingly verify

that we can track every step your lead is taking.

Tirelessly sift through

a myriad of data points so you get only the numbers that matter to you to guide your decisions.

Work our magic

to present your numbers in a way that makes pinpointing problems, deciding on your next steps, and spotting victories effortless and intuitive. 

Turn your numbers soup into a crystal ball

, so you know exactly what to do to hit your targets.
Selena Soo, Publicity & Marketing Strategist
Before & After Your Funnel Vision Dashboard
Your life before your Funnel Vision Dashboard:
You worry constantly

about what you'd do if your sales slow down or stop altogether. How do you figure out why it happened? What should you fix? What if by fixing one thing we break another?

You are in the dark

about how your marketing efforts are contributing to leads and sales and, because of that, not knowing what levers to pull to improve your ROI.

You are exhausted

, constantly feeding the insatiable beast that your marketing has become that keeps whispering your ear: "Publish more, be visible more, advertise more…"

You wonder if you are missing out

on an opportunity to improve your ROI because you don't have a clear picture of the inner workings of your funnel.

You spend thousands of dollars

a month on your team, your Facebook ads agency, your conversion copywriter, your video marketing, marketing-related courses, and everything else, while not being sure if you are getting a worthwhile return on investment.

You're annoyed that you feel like you're just not smart enough to make sense of all the metrics your team reports to you.
Your life with your Funnel Vision Dashboard:
You are focused. You have visibility into what works

and what doesn't work about your funnel. If an area of your funnel is underperforming, your dashboard flags it for you and grabs your attention so you can instantly see what to focus on.

You "market forward," instead of looking back

and analyzing past numbers. You have a clear plan of action to reach your goals, outlining benchmarks to hit at every stage. 

You achieve your goals faster

, because you're able to see when you're on track or off track—and to quickly adjust your marketing accordingly.

You know exactly which actions to take

to produce the revenue you've projected.  

You use your resources wisely

and make the most out of the traffic you are already paying for.

Your team is efficient and empowered

because the dashboard shows them exactly what needs to be done. They're able to act more independently and take ownership of specific marketing initiatives

.
Our Framework
I won't bore you with the technical side of things. That part is fun only for tech geeks like us.
But what you will love is our signature CASH framework that we use to build your Funnel Vision Dashboard.
This framework will turn your marketing efforts into cash… without an expensive learning curve

.
Clarify
We put all the puzzle pieces on the table and examine all your funnel data. We then identify the precise information we need to focus on so that we can safely disregard useless clutter in your numbers.
Assemble
We build the "measurement marketing machine" that will allow us to collect the metrics you need—the numbers that will tell you a clear, understandable story of how your funnel currently performs

.
Show
We create your  Funnel Vision Dashboard, where your metrics are presented in a visual, simple, and actionable format. Your custom dashboard will give you instant answers to your most important marketing questions.
Hone
You start seeing your own funnel performance benchmarks, instead of relying on industry averages. Your dashboard becomes a crystal ball that reveals the exact shifts you need to make to yield massive results for your funnel.
In addition to the Funnel Vision Dashboard you will also receive:
Funnel Audit

—a thorough analysis of your funnel, outlining opportunities and possible hazards.

Complimentary 30 days of support/safety net

 once the dashboard is delivered so that we can watch your numbers and provide recommendations for how to optimize your funnel.

List of Recommendations

for how to optimize your funnel based on the data we start seeing.

Weekly video reports

analyzing your funnel performance results (once the dashboard is built).

Plan of Action

to reach your funnel revenue goals outlining specific metrics to strive for at every stage.
We are so excited to see if you're a good fit to work with us on your Funnel Vision Dashboard! Please take a minute to complete the form below so we can learn more about you, determine if you qualify, and see how we can help you.
Please make sure to give as much explanation as possible. This is your chance to share with us what you are up to so we can determine how we can best help you start pulling in reliable funnel revenue with ease!
The change we've seen in our business is astronomical. We have upped our revenue by 85%, which is exactly what we were hoping for. And looking at our individual clients, we have been able to increase the total number of clients we are working with by 250%.
I'm so pleased to have this new system for tracking my numbers. It's seamless and easy, and I never have to dig up obscure data anymore. As far as time spent, I went from 30 hours to 5-6. It's a one-stop shop for all my data.
If you are looking for someone to help you to get a better grasp on your numbers, so you can make more strategic decisions in your business do not look any further than Natasha.
You're a good fit for the Funnel Vision Dashboard if…
You are a coach or course creator

who has an evergreen funnel for one of your offerings—a group program, digital course, membership site, or mastermind.  

Your funnel has been tested

and has already generated, or is on the path to generating 6-figures in sales.  

You can restrain yourself from constantly tweaking your funnel

or are willing to stop fussing with it while we are building the infrastructure to measure how your funnel produces results.  

You're not afraid of data

, especially when it's presented in an easy-to-understand way, and you are open to implementing improvements based on what your data tells us.  

You have a tech team member

who can help us to execute tech tasks, like adding or removing code, when necessary.

You will not abdicate the success of this project

to us. Although most of the technical work will be on us, the implementation based on the insights you gain is your job.
how Your Dashboard Gets Created
10,000 Foot
View
During the onboarding stage, we get to know you and your funnel. We will also look at how well your current setup allows you to see what's working and what's not in your funnel and compare it to your ideal level of visibility

.
The onboarding stage starts with you filling out an Intake Form and giving us access to your traffic tracking platforms

. 
Auditing
Your Funnel & Tools
We then thoroughly analyze the tools you are currently using and how well they allow you to collect data that you need. We also go through your funnel to verify that we can measure every step of your customer journey. We present the results of our audit and outline opportunities and possible issues during our Planning Session

.
Performing Measurement Magic
This is when we define what numbers we'll be tracking for you so that we are getting the numbers that matter versus just numbers for numbers' sake. After that, we build your "measurement marketing machine" so that your numbers tell you a story of how you are achieving your current results

.
I'll spare you the tech details .
Building Your Funnel Vision Dashboard
During this stage, we organize your data on your dashboard by stripping out all the fancy but useless data that pours into your business. This way you don't dread looking at your numbers. We focus on just the numbers that matter, so you get excited to see the dashboard because it allows you to make decisions at a glance

.
Delivering Your Dashboard
That's when we jump on a quick call to walk you through your dashboard, go over what your numbers are telling us, and examine decisions you can make using your shiny new dashboard

.
Translating Numbers into Action
Once the data begins flowing into your dashboard, it starts unveiling hidden insights allowing us to solve issues and unstick bottlenecks. We will be pinpointing them to you in our weekly video updates

. 
List of Recommendations & Plan of Action
We also prepare and share with you our observations outlining your greatest opportunities and pointing out issues. In addition to that, we prepare for you a Plan of Action that tells you exactly what you need to do to hit your funnel targets

.
Offboarding
We meet once more to go over your Plan of Action and discuss with you our options for support moving forward. We thrive on long-term collaborations with our clients and love it when we become an indispensable strategic partner

.
Your numbers shouldn't grade your marketing efforts, 
they should guide them
With your Funnel Vision Dashboard, rather than living in uncertainty and anxiety about what would make your funnel more effective, you'll know exactly what fixes need to happen…and will be able to verify that the fixes work. 
We're here to reveal to you which half of your marketing dollars are bringing in cash and which half goes to waste so that you are able to make confident profit-generating decisions.
Thanks to the SystemsRock team, we now have an easy-to-use dashboard that seamlessly manages hundreds of membership customers and provides all of the key metrics we need to make smart growth decisions.
Thank you for helping me to scale my business to multiple six figures without the stress and burnout! I now feel confident scaling our business because we've created such a strong foundation with Natasha's help.
The thing for me that gets me really excited is, I know this will help me get really motivated to put more energy into the things that are working.
Whereas right now, it's that feeling of like, I don't want to do anything, and I'm so sick of paying for everything, because I just have no idea what works. And I feel like an idiot. So I'm excited to be able to get over all that emotional stuff and just let the data tell me what to do.
Natasha sees possibilities in a way I've never seen before. Most entrepreneurs are visionary but Natasha's unique vision is for seeing how the big picture can come together in new ways and, most importantly, how those new ways can be easily implemented and optimized.
This vision applies to people, systems, metrics, and just about every other area that business owners tend to struggle in! Where others see a disjointed set of tools, strategies, and ideas, Natasha sees the future of a well-oiled machine.
How long does it take to build the Funnel Vision Dashboard?
Your Funnel Vision Dashboard will be delivered to you in 90 days. We will stand by your side for an additional 30 days at no extra charge to watch your numbers and provide recommendations for how to optimize your funnel.
How much time should I expect to invest?
Most of the work will be done by us. 
You'll need to set aside time to:
Fill out your intake questionnaire (about 15min)

Meet with us for your onboarding, dashboard hand-off, and offboarding sessions (3 meetings 45-min each)

Watch weekly video reports (4 reports up to 5min each)

Create a plan to implement the changes in your marketing that the dashboard reveals as most powerful
All-in-all we will need about three hours of your time over the course of four months. 
.
I'm still tweaking my funnel. Is that OK?
What's most important to us is that your funnel has been tested and has already been generating sales. If that's where you are at, you are ready for the Funnel Vision Dashboard. 
We do ask that if you restrain yourself from tweaking your funnel while we are building the infrastructure to measure how your funnel produces results. 
Chances are that the changes you are making right now are based on guesses, which is why you're a great candidate for a Funnel Vision Dashboard. You know this is not the best way to get results. Once your dashboard is ready and receiving numbers, we'll send you a video report outlining improvements that would get you fastest results.
.
I'm not a numbers person. Will this work for me?
I realize that you may not get excited about the numbers like we do. However, I'd argue that it doesn't make you "not a numbers person." 
In our experience, when you look at the specific numbers that matter (numbers that answer your questions), presented in the right way, you stop seeing the numbers and start seeing the behaviors of your customers. When you see the numbers as behaviors, reading your dashboard is like reading a story. And I'm sure you are great at that!
We already use [insert the name of the tracking and reporting system you are using]. How's your Funnel Vision Dashboard different from other dashboard solutions?
The way generic dashboard software works is that it integrates with other tools that track data, like social media platforms, email marketing software, and payment processors, and spits it out for you in the form of pretty charts and graphs.
These dashboards are fantastic at pulling the results of your efforts in a single platform. However, more often than not you are still staring at a wall of meaningless numbers. 
The Funnel Vision Dashboard is built specifically for your funnel. What makes it very different from any solution you are using right now is that it strips out all the fancy but useless data that pours into your business. Instead, it tells you a story of how your funnel functions, it shines the light on the concerns that have been eating at you for months, it highlights what you should focus on, and it becomes your roadmap for the action you need to take.
Do you offer support/maintenance after the dashboard is handed off to us?
Yes. If you're thirsty to achieve bigger goals beyond our 4 months together, we can discuss how we can help you maintain (and build on) your Funnel Vision Dashboard in line with your constantly evolving goals and marketing strategy.
Will I need to be paying any maintenance fees after the 4 months?
No. You will not pay any maintenance fees for the platform your Funnel Vision Dashboard will be built in. The Funnel Vision Dashboard is built in Google Data Studio, which is a free tool. 
Many of our clients choose to continue working with us beyond the 4 months to receive regular insights about how they could optimize their funnel further. Some of our clients choose to expand their Funnel Vision Dashboard to include data about their overall marketing efforts. That's an additional paid service, and the price varies depending on the level of support required.