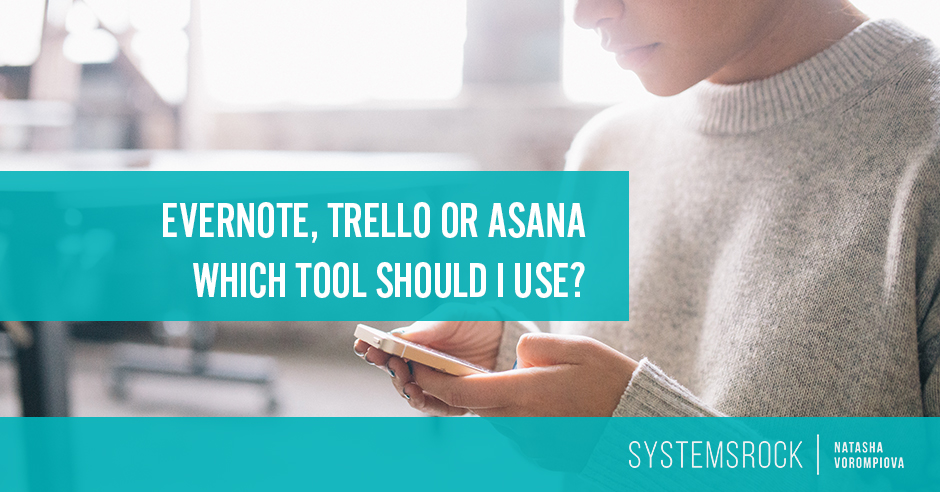 Updated on Aug 31, 2016
Since I am constantly recommending tools like Asana (Got Asana? Make the Best Use of It), Trello (Unconventional Business Uses for Trello), and Evernote (Could You Run A Business Using Only Evernote?) to run a small business, I get asked pretty regularly which one would be right for you and your business – Asana, Trello, or Evernote.
Unfortunately, the answer isn't straightforward.
First thing's first, if you've never tried either Asana, Trello, or Evernote, play with each one in order to see which layout feels more intuitive to you and your business.
If you're still on the fence about which one you need after that, here are some of the advantages and disadvantages of each tool.
You'll love using Asana if…
You already have a team.

– If you regularly delegate tasks, Asana has a cleaner and more intuitive interface for assigning tasks to team members. You can add information such as detailed instructions, due dates, and you can tag other team members who might need to know about the progress of that task.

You are planning on building a team. – Even if you don't have a team right now, if you're planning on expanding to even just one team member, Asana is a more robust option for project management because you can easily keep track of their tasks and have conversations about specific tasks and projects.
You need to keep track of project progress. – Within Asana's interface, you're notified whenever a task has been completed, needs extra attention, or hasn't been completed yet. All of these features add up to you being able to keep track of where your projects are and what you need to do to move forward.
You need to keep track of daily tasks. – If you're a fan of marking things off of your to-do list on a daily basis, Asana's simple checklist format will thrill process-oriented people. What's more, you can also see when you load too much on your plate for that day and make adjustments accordingly.
You are a list person. – If your thought process is more linear and prefer to check items off, then Asana is a brilliant fit. The entire system is set up to create easy-to-navigate lists so you always know what you need to do and what you've done.
Overall, Asana is a great tool for business owners that currently have a team or are looking to build a team. It's a much more robust system for managing projects, like launches or daily processes, and is more useful as a task manager.
You'll love using Trello if…
You are a visual person. – 

Much like sticky notes on a wall, Trello is very visual. Instead of a series of lists that can feel boring, Trello allows you to create cards and watch them "move" through the process as work is completed. You can even add images to Trello to add to the fun.

Your work is project based. – 

Trello is set up much like a Kanban System, making it easy to track project work.

Collaboration with clients is easy as well. Simply create a board for the project you're working on together. Your client can see the "big picture" and see progress in a very visual way.
Work within your team involves multiple steps or handoffs.

 – Trello makes it simple to coordinate multiple steps in a process. You can easily show each step of the process and tag team members during handoffs to your team. And, a big benefit for you is the ability to visualize your progress with just a glance at the board.

You work on recurring projects. – 

With Trello, you can create a system for recurring projects (such as a launch) and delegate the project without worry when it's time to run it again.
Trello is a great tool for small teams who appreciate visual structure. It's robust enough to handle your blog content calendar, social media process, or a launch cycle. It's ideal for project work, making it easy to organize multiple steps, hand-off, or collaborate with clients
You'll love using Evernote if…
You need a digital archive. – The real power of Evernote is that you can basically keep all of the resources you find online and store them neatly organized in one place. This eliminates the need for you to go searching all over your computer for that PDF downloaded but can't locate now.
A digital notebook would be handy to store your thoughts and ideas. – Besides being able to store documents and resources, you can also use Evernote to keep your reflections on projects, notes from meetings, and even a daily journal.
You need to a place to store templates for repeating processes. – When you're working with a team, it's essential to keep track of the processes for tasks that are done repetitively, for instance, formatting and publishing a podcast episode or posting on social media. Evernote offers you the ability to keep all of your repeating processes in one place.
A place to keep track of reader/client feedback is useful. – You can also use Evernote to keep track of reader and client feedback, questions, and comments that you can organize for future reference.
You are a creative visual person. – If you prefer more flexibility and space to accommodate your thought processes, then Evernote could be the tool for you. What's more, you're able to easily capture voice recordings and visual notes like pictures in the way that best suits your needs.
For the most part, Evernote is a great tool for freelancers who work on their own. And, for anyone who wants a digital filing cabinet to keep all of their resources, ideas, and notes in one, convenient, and searchable location.
The Best of Both Worlds – Using a Combination of
Asana, Trello, or Evernote
It is possible to use Asana or Trello in combination with Evernote without making them compete for attention.
You can use Evernote to collect and manage information, but organize workflows and projects using Asana or Trello.
For example, you can record your process for uploading blog posts into Evernote. Then carry out the tasks within that process by using Asana or Trello.
Evernote perfectly complements and seamlessly integrates with both Asana and Trello. So, you really can have the best of both worlds.
Back To You
Based on your business structure, do you think Asana, Trello, or Evernote is better for you?