Watch my interview with Tara Gentile where we analyze the evolution of her product suite, show the underlying system behind it, and reveal why she made the decisions she made to grow her business.
Watch till the end to find out what Tara's cooking up next.  Hint: "it's a secret."
And if you're curious why I introduced Tara the way I did, read the below story…
In search of the magic formula
My first year in business was chaotic and painful.
I used to work round the clock, but my to-do list never got any shorter.  I started to doubt I could ever build a business that would support my family.
I spent thousands of dollars on online programs, but there was never enough time to actually immerse myself in them so that I could reap their benefits.
Everything seemed urgent.  Everything seemed important.
Now I know what would've made those days easier, but back then I didn't know any better.
My brain was constantly in overload. It couldn't absorb any more information, so I'd go do dishes, wash windows, or scrub the bathroom. Our apartment was getting cleaner and cleaner, but my business was making very little progress.
Transformational Conversation with Tara Gentile
Then, one day I told Tara: "I don't know what advice to follow anymore.  There are so many brilliant marketers out there, but I resist implementing their tips because everyone is trying to teach me how to build a massive following.  But "massive" is not my thing.  I want small, intimate, collaborative."
Tara's response: "Then, why don't you build that?"
Wait, say what?  I can create my own rules?
I don't know why I needed someone else's permission to build a business I really enjoyed running, but breaking the rules became my thing.
My Business Breakthrough
I got rid of the formulas and tried-and-true methods that were supposed to skyrocket my business tomorrow, but didn't ring true to me.
Now I was streamlining what was working and focused the rest of my attention on the customer I wanted to work with.
I was determined to structure my business and my offerings in a way that supported my highest purpose, as well as the goals of my clients.
For example, not having an example to follow, I kept experimenting with the format of my Systematic Success program.  I ended up switching the formats and moving the materials of the program from a membership site directly into Evernote and Asana.  The new format was launched in January 2015 and proved to be a huge success.  I'm proud to say that there is no other program like that on the market  :).
But what's even more amazing is that I no longer felt the needed to rely on other people's formulas.
Magic formula anyone?
I bet you don't need a magic formula either.  It's time to create your own!
Want some guidance?  In just a couple of days Tara is hosting a free webinar to reveal what she's learned about creating a marketing framework that works for you.  Click the image below register.*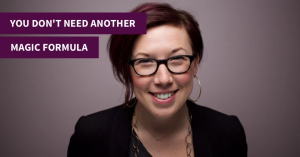 *P.S. Please note that the links above are affiliate links.  I'm both an certified coach and affiliate for Quiet Power Strategy: The Foundation. I'm recommending the program to you because I've personally benefitted from the material, and I want to be upfront about that!