By Pamela Mattei
For every entrepreneur, life is a series of events and segments of time.
Copious spare time is scarce (or non-existent) because there is always something else to do or waiting in the wings.
Products to launch, networking events to attend and leads to follow up with are constant tasks. Speaking opportunities to line up and prepare for, bring with it deadlines to meet. Email newsletters to draft, edit, and schedule to release and marketing campaigns to develop are part of your life. New clients to get acquainted with needs care. Trade shows to go to and business goals to reach take preparation. The list goes on and on.
For many entrepreneurs without a team, it is your sole responsibility to:
develop and produce new products and services.
create and implement your marketing and social media strategies.
attend to administrative tasks.
serve as the sales force and deal with customer service issues.
pay the bills and collect unpaid monies that are owed to you.
network, build your brand.
… and if you are lucky, get a little bit of sleep or try to have a life outside of your business.
It's exhausting just thinking about it, isn't it?
As a successful fabric artist, Creative Consultant, and Business Strategist, and having a booming part-time theater career, to say time is a scarce commodity in my life would be an understatement. I am sure many, if not all of you, can relate.
The past nine months I have felt like I have been conducting a freight train going 90 miles an hour. I have consistently been working theater shows eight performances a week, six days a week for two (or sometimes three) weeks per month. Every. Single. Month.
Traveling, unpacking, living out of a suitcase, moving back home or cramming in a trip on my one day "off" a week, doing laundry, sorting mail, refilling my travel shampoo bottle and other supplies, repacking, and that is just on the theater side of my life.
For my art businesses I have been corresponding with prospective galleries, filling gallery reorders, doing TV interviews, celebrating being featured on the cover of an international magazine (Handmade Business), planning new products and services, leading my art mastermind group meetings, lining up speaking engagements, writing articles for magazines and blogs, pitching to the press, making lists of things I need to do once I am back in the studio, checking in on potential clients, trying to focus on accomplishing at least one or two things a day related to my business while I am in "theater mode", and trying to adjust to this ever hectic, "crazy busy" schedule that has seemingly become the new "normal", at least for now.
I would like to share with you a tool and a system that have literally changed my life.
Since becoming a Trello user, I can confidently say that I am addicted. I have Natasha Vorompiova to thank (or blame) for that. I love Trello as much as (or maybe more than) a shoe addict loves when she gets her feet in the newest pair of Manolo Blahniks.
Let me tell you and show you how Trello may very well save your sanity from the pits of entrepreneurial overwhelm and kick your list-making organization, prioritization problem, and productivity habit (or lack thereof) into high gear like it has for me.
Trello combined with my system for planning the endless barrage of upcoming life and business events is a match made in heaven.
With a non "normal 9 to 5" career as an entrepreneur and freelancer, there is very little that is ever routine about my day. While the freedom and flexibility are definitely benefits, the lack of systems and structure can be frustrating for any Type A personality, especially when we yearn for normalcy and consistency. Priorities need to get prioritized. Important to-dos need to get done. It is not long before it seems as though everything is spiraling out of control.
You see, instead of a 9 to 5 lifestyle, I live my life in segments of time. Each segment of time culminates with or revolves around a specific event or an actual segment of time. For instance…
In my theater life…
Working a one day concert next weekend
Heading out of town to work on the four week run of Wicked or The Lion King
Getting a call to work for a one week run of Beauty and the Beast only to have to shift into emergency preparedness mode at the threat of a major 12" snow storm. which included having to coordinate renting hotel rooms next to the theater mid-run with fellow show workers so we didn't get stranded at home trying to get to work on the way home at night after a show, Because, after all, the show must go on!
In my art life…
Exhibiting at a local retail art show
Traveling out of town to exhibit as a three-day national wholesale trade show
Shipping out all of my holiday gallery orders
Restocking my Etsy shop
Reaching a business goal (i.e. reaching a certain number of email subscribers or producing a certain amount of inventory before the holidays)
Preparing for my monthly art mastermind meeting
Skyping with an accountability buddy
Speaking to a group of creative entrepreneurs
In my personal life…
Getting away for a few days to relax and recharge (No, it doesn't have to just be a dream. It really can and needs to happen every so often. You deserve it!)
A relative's wedding
Next week
Next month
After picking a time frame, I brainstorm a list of…
Everything I need to do BEFORE that
Things I can or need to do DURING that time
To-dos that are floating around in my head, but that I really don't need to worry about or focus on until AFTER that thing is over
For the past nine months, I have focused on each little segment of theater time, before Motown, while I am working Kinky Boots, after Cirque du Soleil. Each show requires a list of what needs to be done BEFORE, DURING, and AFTER. But it's not just a matter of including theater tasks; I have to include art projects, business goals, personal to-dos, and household responsibilities as well.
Pamela Mattei on managing the big (and small) events in your life and business with @Trello.
Tweet it!
To make this process simpler, rather than reinventing the wheel every other week, I created a template board on Trello.
I copy and reuse that template each time I need to plan for a new life or business event or segment of time. In order to use it…
Click here for a more in-depth look at my ten step process to managing upcoming events
Copy the board to your Trello account and save it as a template
Copy the board again in order to edit, fill in, and start planning for your next event
Rename that second board to the name of whatever event it is you are trying to plan around
Then, just follow the step by step guide I have outlined in the "HOW TO USE THIS BOARD" list and start planning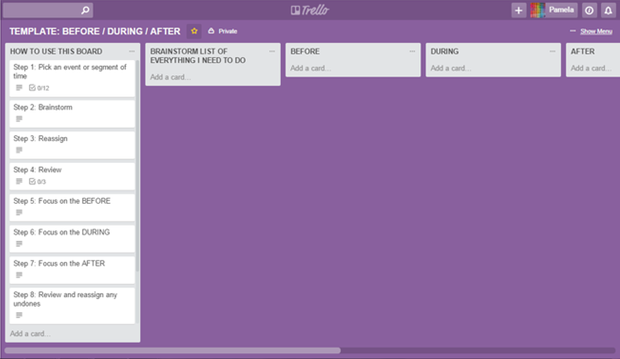 Make sense? Give it a try. This concept works great with short and long term time frames too.
Think about tomorrow. What do need to do…
 before tomorrow?
 tomorrow?
 after tomorrow?
This system is truly a lifesaver, a sanity preserver, and helps me prioritize and focus on which to-dos matter most right now while not letting me forget what I need to remember to do later.
So keep asking yourself…
What big or small events or segments of time do I have coming up that require some planning?
Then, what do I need to do BEFORE, DURING, and AFTER that time?
Here is again the link to my board.
Your Turn
Leave a comment below. Share what events you have coming up in your business or life that you are going to start planning for. Break a leg!
BIO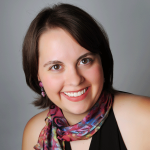 By day Pamela Mattei is the Founder and CEO of DyeSigns By Pamela where she creates colorful hand dyed silk scarves which can be found in over 150 galleries in 36 states and Canada and have been featured in Handmade Business, The Crafts Report, and Smart Retailer. She is also a Creative Consultant and Business Strategist and loves mentoring fellow artists and creative entrepreneurs to overcome overwhelm, establish goals, prioritize projects, and take the next step towards achieving their goals.
At night, Pamela works behind the scenes on the wardrobe crew for a variety of national Broadway tours like The Color Purple, The Book of Mormon, and The Phantom of the Opera, as well as concerts featuring musical superstars and legends including Taylor Swift, Cher, Sir Elton John, and Prince. She loves making lists and has become obsessed with incorporating Trello into every facet of her life, making her life simpler one Trello board at a time.