by Jules Taggart
Last weekend, I was sitting at a hotel bar in Phoenix nursing a glass of cabernet. And tweeting, of course.
Because what else do you do when you're sitting at a hotel bar and you don't know anyone?
That's easy. You tweet.
I landed in Phoenix earlier in the day to attend Pam Slim's Body of Work Live event.
As it turns out, I was about 5 hours early. So, I hit the lounge hoping to run into other people who were attending the conference.
I quickly stumbled across the #bodyofwork hashtag and realized I was sitting right next to a few other attendees. Imagine that!
Social media can be a time suck and it may be impersonal at times, but it also helps you connect with people who might not otherwise meet.
I went from not knowing a single person in the restaurant that night to realizing that I have something in common with the people right around me just because of a hashtag.
Hashtags Aren't Enough
While finding your peeps through hashtags is one way to go about creating community, it's certainly not the only way. If you want to make stronger connections and create more meaningful relationships, then take your community beyond the hashtag by creating a dedicated space to meet, interact and do business with one another.
There are thousands of well-established Facebook groups and Google+ communities out there where you can connect with potential clients, meet collaboration partners, and find vendors to help you grow your business. The problem is that there are so many to choose from!
Despite the thousands of communities out there, you might find it difficult to join a community that offers exactly what you want. If that's the case, then it might be time to start your own.
Take your community beyond the hashtag!
Tweet this
!
 Creating a Community
Creating a community doesn't need to be a masterpiece. And it doesn't need to be a 3-month undertaking. In fact, it should be relatively quick and painless to set one up. Save your time and energy because you'll need it when it comes to growing the community and ensuring engagement!
So, let's get your community started. Open a fresh Google doc (or Word doc) and answer the following questions:
What need are you fulfilling? Is your community focused on discussing accounting/tax challenges for entrepreneurs? Or is it a gathering place for entrepreneurs who want to grow to 6-figure incomes during their first year in business? Or a community for mompreneurs?
The key here is to be really specific. Appealing to everyone is a great way to appeal to no one!
What do community members look like? Are they men, women, or both? Are they in their 20's or their 50's? Are they side-hustling or full-time entrepreneurs?
The members of your community want to connect with other people just like them. So let them know what you're looking for!
What special about your community? In other words, what will your community offer that other groups in your focus are aren't already offering? Will you do live Google Hangouts? Host Twitter chats? Feature a community member on your blog each week? Name at least one thing that people will identify as a signature of your community.
What platform will you use? The two platforms I've used most often are Facebook groups and Google+ communities. Depending on your audience, either one can work well.
Facebook groups are great because I'd be willing to bet that 99% of the people you want to reach are already using Facebook multiple times per day.
Google+ communities, while not as widely used yet, are fantastic for organizing conversations. They allow you to categorize content and are much easier to read through and participate in than Facebook.
If Facebook and Google+ aren't your thing, there are always LinkedIn groups, Ning.com communities and others.
Is your community free or do participants pay? I've created both free communities, like #YESvember, as well as paid communities, like Thrive Hive.
Choosing whether or not to charge for your community is a big decision. A couple of years ago, most online communities were free. But there's been a shift toward paid groups and here's why — when your community members have a little bit of skin in the game, they're much more likely to be active participants.
You don't want your community to be a ghost town where no one talks or interacts.
How will members join? Just because you're creating a membership community on a platform other than your website doesn't mean you shouldn't gather email addresses! Instead of sending people straight to Facebook or Google+ to join your community, send them to your website instead (if you're setting up a paid group, then this step is a necessity).
Create a dedicated page on your website to share information about the community.
If the community is free, you'll simply  ask people to offer their email address in exchange for joining using an opt-in form.
If the community is paid, they will click on a PayPal link to purchase membership. PayPal allows you to redirect someone after they make a purchase, so create a "thank you" page on your website and redirect new members to that page after they purchase membership. On the "thank you" page, include an opt-in form.
There are a lot of steps involved here, but at the end of the day, gathering community members' email addresses is incredibly important and worth a little extra time and effort to get it setup correctly.
How will you introduce new members to the community? Have you ever joined a community and eventually left the group because you didn't feel like you knew anyone? This happens all the time! When someone cares enough to join your community, it invites you to reciprocate.
One of the best ways you can do that is by publically welcoming newcomers to the group and asking them to introduce themselves.
By doing this, you're acknowledging that they're new, inviting other community members to connect with them, and giving them a "job" to do right from the beginning.
How will community members know the "rules"? Many membership groups have formal or informal rules that they ask people to follow. A big one of mine is "no drivebys". I can't stand it when someone joins a community just to bombard the other members with all of their content. That irks me!
So, I make it a point to let new community members know that it's not the way we do things — and I also let them know about some great ways to interact that they might not have considered.
And guess what — since you asked new community members to join your email list, you can setup a simple autoresponder campaign that lets pings them a day or two after joining and outlines the community rules.
How do you keep content fresh? I think a lot of community leaders feel like they have to start every conversation, answer every question and be 100% available to community members all the time. That's not the case.
The beauty of getting really specific about the need your community is fulfilling means that you have a whole GROUP of people who are passionate about the same thing. Empower them to lead discussions, answer questions and offer feedback — and they will.
How will you deal with it when someone leaves? Let's face it. Not everyone is going to fall in love with your community. And for some people, it will be a great fit this year, but not necessarily next year. That's ok.
When someone leaves my communities, I always do three things.
First, I ask if they can offer any feedback that would help me improve the value of the community for others.
Second, I ask how I can support them even after they've left.
Last, but not least, I let them know that if anything ever changes and they want to join the community again, they will be welcomed with open arms.
Now It's Your Turn
Communities can be built in many different ways. What's your system for going "beyond the hashtag"? Leave a note in the comments below and let me know.
Bio: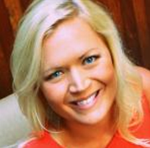 Jules Taggart, founder of amp&pivot, shows entrepreneurs and small business owners how to tell their story in a bold and unforgettable way. No filter, no apologies — that's the amp&pivot rally cry! Jules is also the creator of Thrive Hive, an online community for women entrepreneurs.